Hi, I'm Nick Barker
The Further / Higher Education Specialist
for Clevertouch
I have been working in the sector for over 10 years and enjoy sharing my knowledge and experience with Colleges and Universities on how to use and deploy collaborative technology in a wide range of applications to enhance teaching and learning.


---
Clevertouch in Colleges and Universities
I love technology and showing how our solutions can improve collaboration and the overall teaching and learning experience. With so many applications within a university setting for example, be it teaching spaces, huddle rooms, or large lecture theatres, the Clevertouch Ecosystem can be utilised in all of these, with faculty specific nuances too.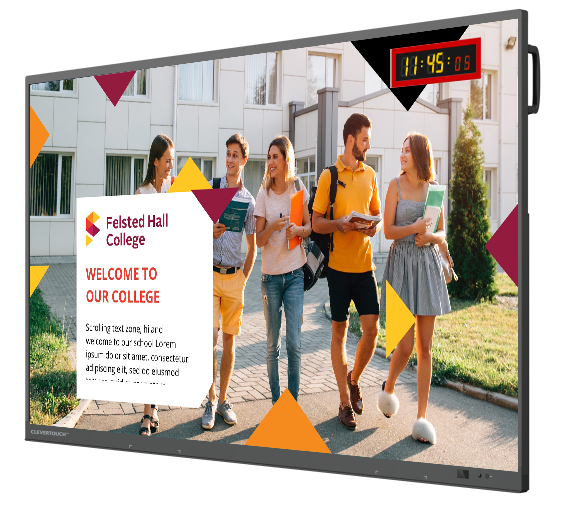 The Clevertouch Ecosystem consists of Interactive touch displays, standard large format displays and room booking solutions, that can all be coordinated from one online platform that is free with no ongoing fees.
Clevertouch Live allows users to manage digital signage templates and alerts to all of these with ease, plus design customisable user interfaces for users.
You are in control. Our MDM (Mobile device Management) platform allows IT managers to monitor and control the Clevertouch fleet. Remote onto a display for control, disable apps and set policies for all displays for a consistent experience for users. Security can also be managed for Internet access and erasing of user data.
Please contact me on the details below to discuss your requirements, and id be happy to advise how our solutions could transform your teaching spaces, and the wider campus!
Click here to get a call back, or book in a Zoom meeting by choosing a slot on the below calendar
Remote Teaching Ready
We don't know what the future will bring, but as colleges and universities have moved towards more flexible ways of teaching, we've also adapted our technology to support remote learning. The integrated array microphone and LYNX screen recorder allow you to record lessons with audio, and the ability to integrate with Microsoft Teams and Zoom is ideal for inclusive teaching to remote participants.
Work seamlessly with your preferred UC platform
Our interactive displays are completely agnostic, allowing you to integrate the product seamlessly into your environment and any platform that you already use. Whether it's connecting to hardware that you already have in-room, or working with apps and software that you are familiar with and use on a daily basis, Clevertouch Technologies interactive panels are designed to work with what you have.
Security matters
Our settings are completely customisable so that you can ensure secure integration and management across your networks. Individual settings can be locked down, preventing individual users from making changes. You can group screens together and manage them from your free MDM or ClevertouchLive accounts.
Natural User Interface
When you have too much to concentrate on, it can be difficult to focus on the content you are trying to present. Worrying about how to use your tech, switching between outputs and tools, and changing apps and settings can all reduce the uptake of user adoption. These barriers make people less likely to use the technology. That's why, at Clevertouch Technologies, we've made it simple. There are now fewer "clicks" than ever before to navigate your meeting notes or presentations. The pen writes, the palm erases, and the finger moves - there are no clicks required, as your interactive display can recognise the source (either pen, finger, or palm) and instantly action the process you are trying to complete.