Keeping morale high within the SALES TEAM
The act of selling often boils down to emotion, which means keeping sales team morale high is a vital aspect of managing performance. Digital signage can be key to helping employees feel rewarded and recognised by highlighting top performers, real-time sales information, and communicating sales strategy messages, all within an instant.
Sales Team
65" interactive display
For all meeting spaces, from small informal huddle boxes to large boardrooms, Clevertouch hardware UX Pro interactive displays and CM Series commercial displays facilitate wireless screen mirroring via AirServer and can host online meetings with your Microsoft Teams Rooms environment along with Cisco Webex and Zoom. Working together to present dynamic ideas, IMPACT, and UX Pro are award-winning touchscreen solutions powered by industry-leading apps.
A unified communications platform that is free from frustrations of incompatibility
Real-time collaboration
Inclusive apps and software
Control your entire fleet of displays from anywhere
Built-in line array, noise-canceling microphone.
A winning warranty that's unbeatable and incomparable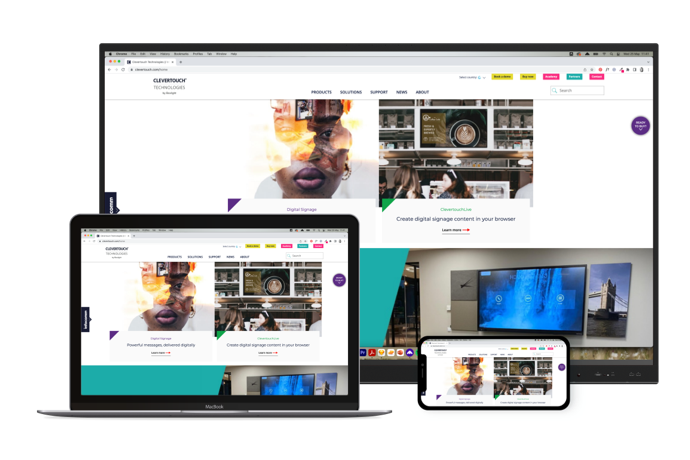 Sales Team
Screen sharing technology
Designed for award-winning Clevertouch interactive displays, Clevershare 5 has undergone a major upgrade! You can now display 9 personal devices simultaneously on your large format interactive display. Users simply download the Clevershare app and start connecting. Up to 50 devices can connect at once, with the presenter having the ability to choose who shares on the big screen and with Clevershare you can use Chromecast, AirPlay, or MiraCast to share content from any device to your Clevertouch device.
Share upto 9 devices simultaneously
Use Chromecast, Airplay or MiraCast to share content
App works on any device
Free to download with no on-going subscriptions
Compatible with Andriod, Windows, IOS and Chrome devices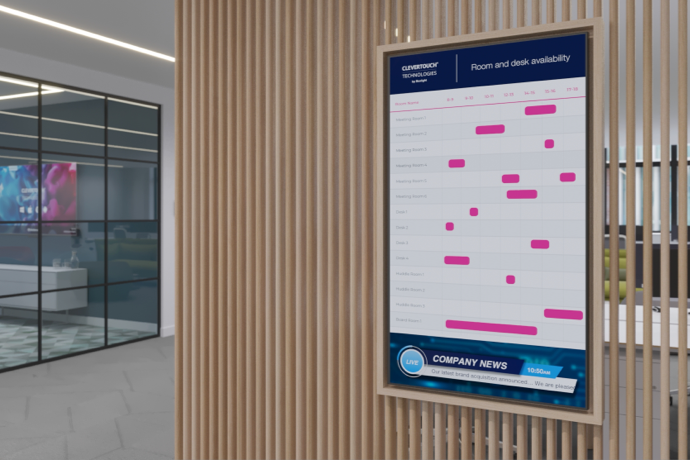 Sales Team
Digital signage option when not in use
Our CM Series is a non-touch large-format professional display screen with in-built digital signage and meeting room system integration. Empower staff to check meeting room availability and book space using their own devices with live room booking updates.
Ultra HD 4K resolution
16/7 ​​​​​​​operation
Landscape ​​​​​​​& Portrait
Control your entire fleet of displays from anywhere
Power Management Scheduling
Inclusive apps and software
A winning warranty that's unbeatable and incomparable
See for yourself how our solutions can help you and book a demonstration with our experts