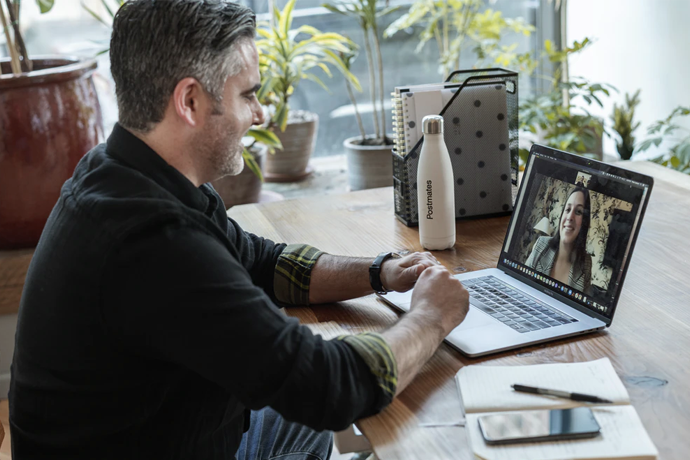 Ideal for training
In-person or remotely
We don't know what the future will bring, but as training centers have moved towards more flexible ways of teaching, we've also adapted our technology to support remote learning. The integrated array microphone and LYNX screen recorder allow you to record lessons with audio, and the ability to integrate with any PC-based video conference platform including Microsoft Teams and Zoom makes the Clevertouch range of interactive screens perfect for either in person or remote participants.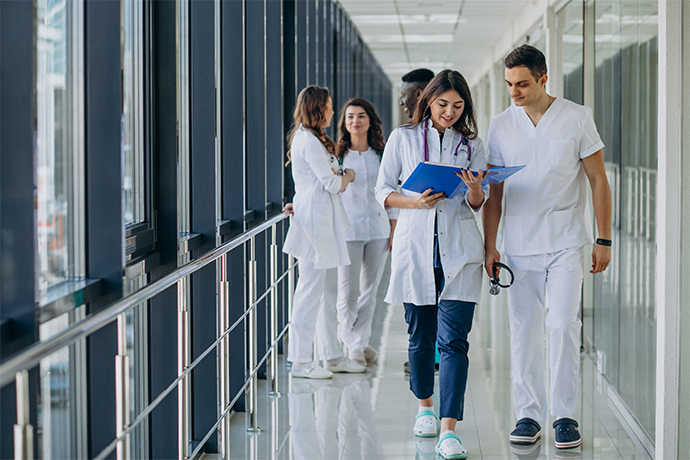 Multi-Disciplinary Teams
When there are groups of healthcare professionals providing the care our interactive displays are the ideal solution. Users can collaborate either in-person or remotely in real-time to ensure that patient information is always kept up to date.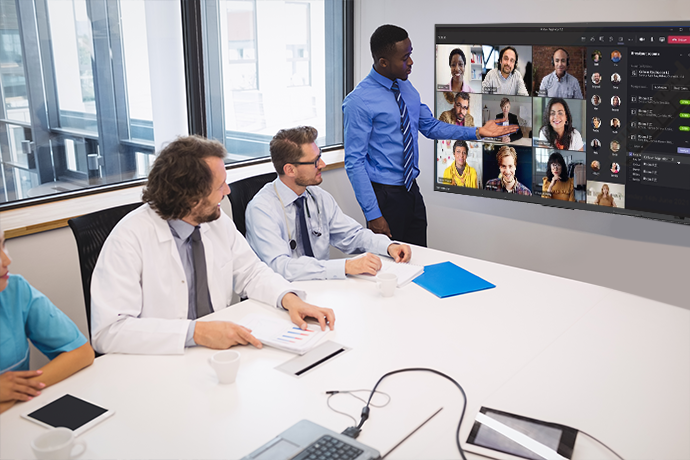 Work seamlessly with your preferred UC platform
Our interactive displays are completely agnostic, allowing you to integrate the product seamlessly into your environment and any platform that you already use. Whether it's connecting to hardware that you already have in-room, or working with apps and software that you are familiar with and use on a daily basis, Clevertouch Technologies interactive panels are designed to work with what you have.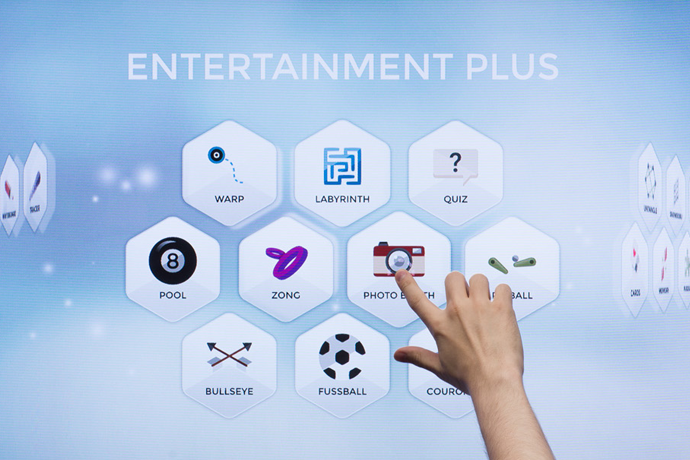 The rehabilitation of neurological conditions
There are many studies that show the use of touchscreens can aid in the rehabilitation of people recovering from neurological conditions such as stroke. Rehab facilities can utilise interactive displays to play games and solve problems using LYNX Whiteboard or Snowflake. These apps are free with the IMPACT Series of interactive panels and contain hundreds of activities that can help improve the dexterity of the weaker hand or strength in the weaker upper extremity.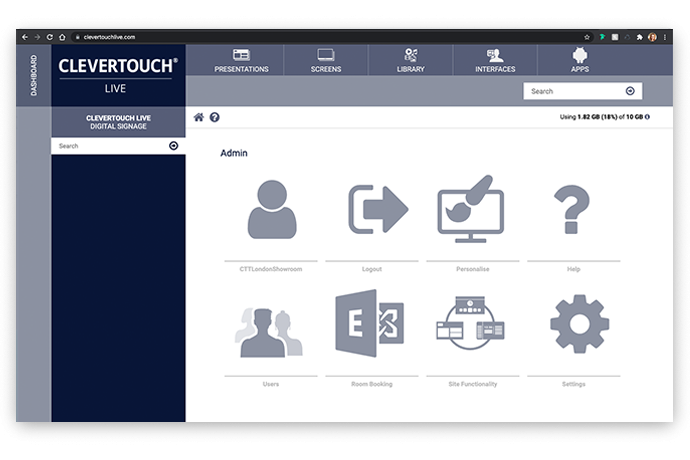 Security matters
Our settings are completely customisable so that you can ensure secure integration and management across your networks. Individual settings can be locked down, preventing individual users from making changes. You can group screens together and manage them from your free MDM or CleverLive accounts.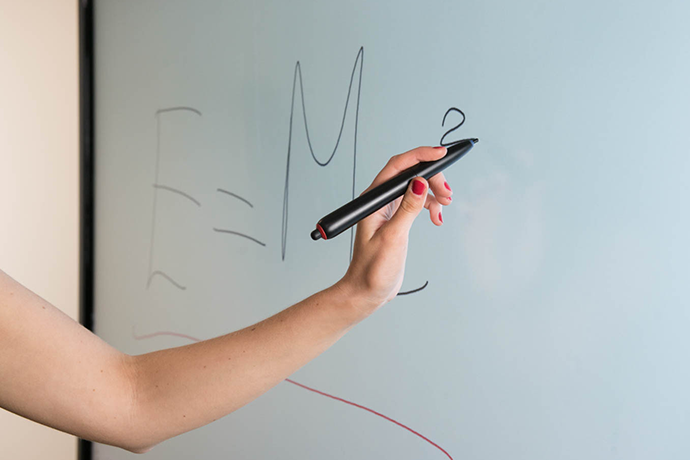 Natural User Interface
When you have too much to concentrate on, it can be difficult to focus on the content you are trying to present. Worrying about how to use your tech, switching between outputs and tools, and changing apps and settings can all reduce the uptake of user adoption. These barriers make people less likely to use the technology. That's why, at Clevertouch Technologies, we've made it simple. There are now fewer "clicks" than ever before to navigate your meeting notes or presentations. The pen writes, the palm erases, and the finger moves - there are no clicks required, as your interactive display can recognise the source (either pen, finger, or palm) and instantly action the process you are trying to complete.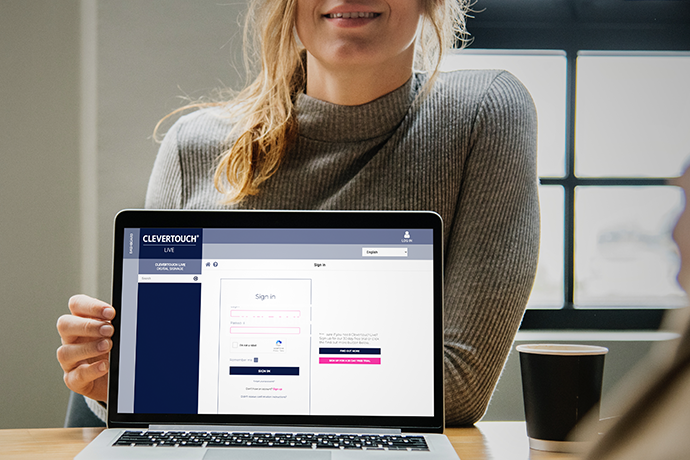 A fully integrated ecosystem
One log-in to control all the products. Our digital ecosystem includes interactive displays, non-touch displays, room booking panels, and digital signage. You can group devices and share content with them instantly or on a schedule. Get in touch for more information.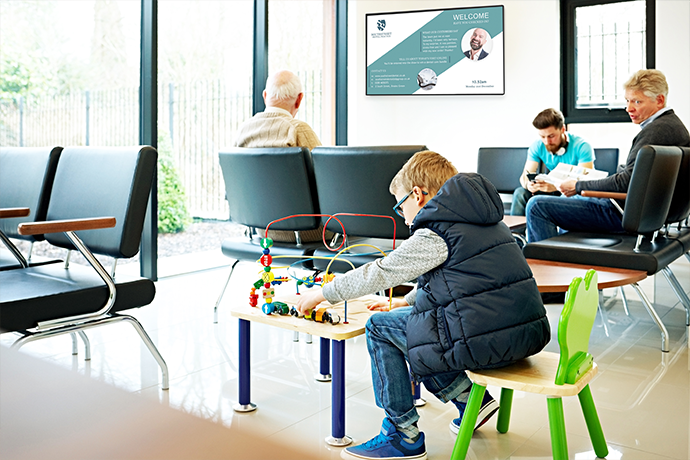 State of the art yet simple to use digital signage platform
Via CleverLive, digital signage can be centrally controlled and administered via the communications team. Not only can this tool be used for health messaging, but it can also be used for external advertising, thus creating a revenue stream. Patients and visitors can interact safely and effectively via QR code, enabling them a simple yet powerful way to easily navigate their way through the hospital, book sessions, or order meals from their personal devices, saving support staff time.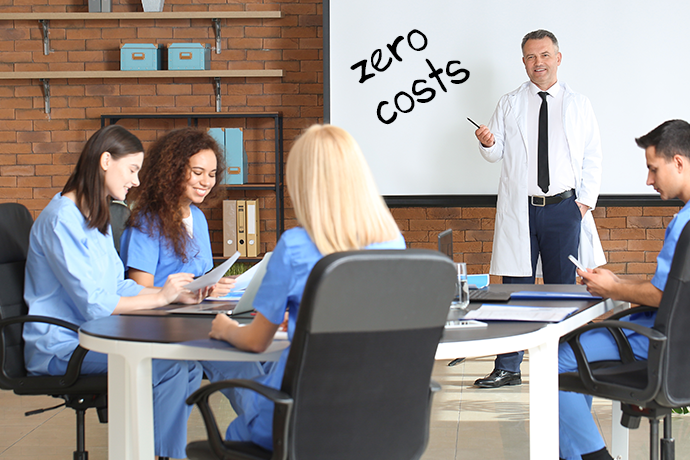 Zero ongoing costs
Our apps, software, and management and control features are all free for the life of the product. There are no unseen costs or subscription fees involved.
To speak with our Healthcare specialist complete the form below