Bring your own meetings – Microsoft Teams

To confuse us all a little more, there's new terminology in town. Bring Your Own Meeting (BYOM), an extension to Bring Your Own Device. If you haven't heard of it, don't worry. As we all now adapt to Hybrid working, being able to connect seamlessly to ad hoc or planned meetings are going to be paramount. The user experience is everything and should be the same in every meeting no matter your location. When we walk into a meeting room with a laptop, most of us will use that device to start the meeting and that device needs to start up the technology in the room instantly without having to log in again or at worst, call IT for help on the setup.
Empower Colleagues
BYOM is a fast and efficient way to connect to your chosen UC platform (be that Webex, Codex, Team, Zoom, etc.) using your own device and the in-room AV. It's a way to ensure a seamless user experience whilst empowering colleagues.
Will it affect Microsoft Teams?
Whatever technology you implement needs to work with your existing setup and that has always been part of our core values. Our Enterprise touchscreen, UX Pro is agnostic and works in conjunction with the Microsoft apps that your colleagues are familiar with.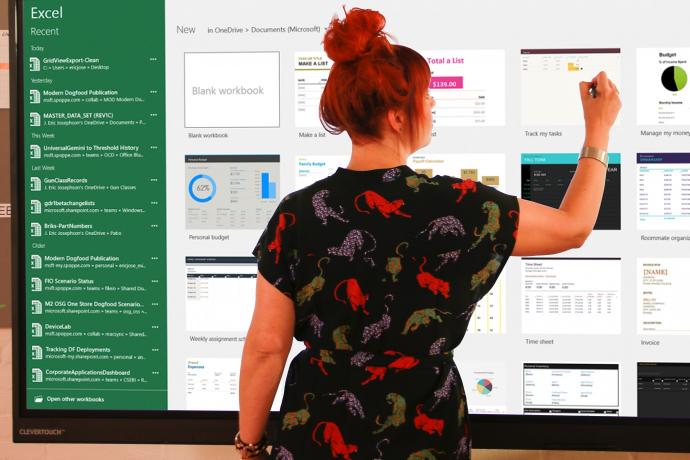 Digitising the Whiteboard
Compatible with Microsoft Ink
Gone are the days of flip charts and post-it notes. UX Pro is compatible with Microsoft Ink. You can open, edit and Ink any document that you've created using Microsoft software. And you can share this process with both in-room and remote meeting attendees, via Clevershare, AirServer, Miracast, QR, or traditional email.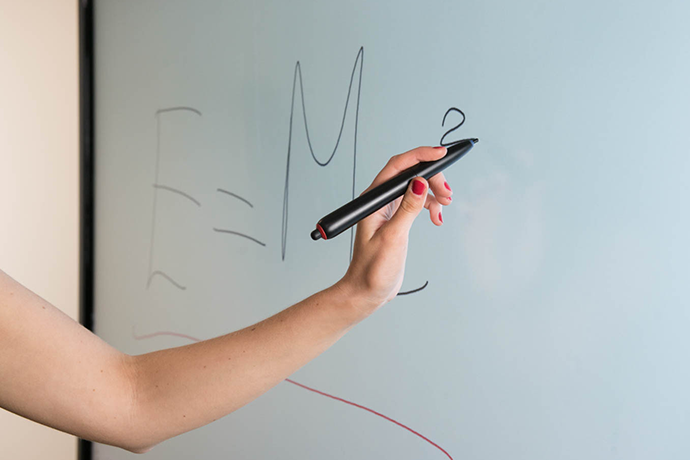 A natural user interface
Fewer 'clicks' than ever before
When you have too much to concentrate on, it can be difficult to focus on the meeting content. Worrying about how to use your tech, switching between outputs and tools, and changing apps and settings can all reduce the uptake of user adoption. These barriers make people less likely to use the technology. That's why, at Clevertouch Technologies, we've made it simple. There are now fewer "clicks" than ever before to navigate your meeting notes or presentations. The pen writes, the palm erases, and the finger moves - there are no clicks required, as UX Pro can recognise the source (either pen, finger, or palm) and instantly action the process you are trying to complete.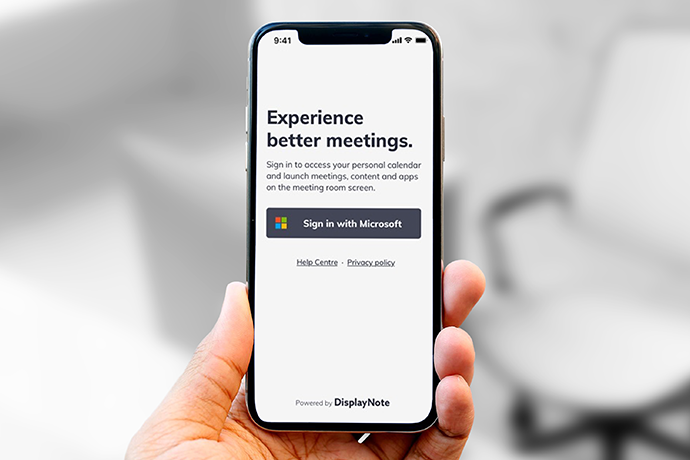 Your meeting room setup
Made easy with DisplayNote Launcher
UX Pro can work as a standalone screen or in conjunction with additional displays via a connected hub. No matter what room set up you have, guests and team members alike can open their own Microsoft Teams account on the interactive display in conjunction with an Intel OPS PC. Users simply download the DisplayNote Launcher App onto their phones. From the app, they connect to the UX Pro display and start their meeting, launching Microsoft Teams on the large format display. Anyone can do this, without needing to have training or special access to the UX Pro display.
Can't download an app to your business device?
Clevershare Dongle
We understand that there are many organisations that don't allow their team members to download apps to company devices. We've developed the Clevershare dongle, which plugs directly into your USB-C port on your tablet, phone or laptop. Clevershare is agnostic and therefore it is compatible with devices running iOS, Android, Chrome OS or Windows.
Now, do we need to talk about limiting the number of meetings? Well, that's probably a different conversation altogether.