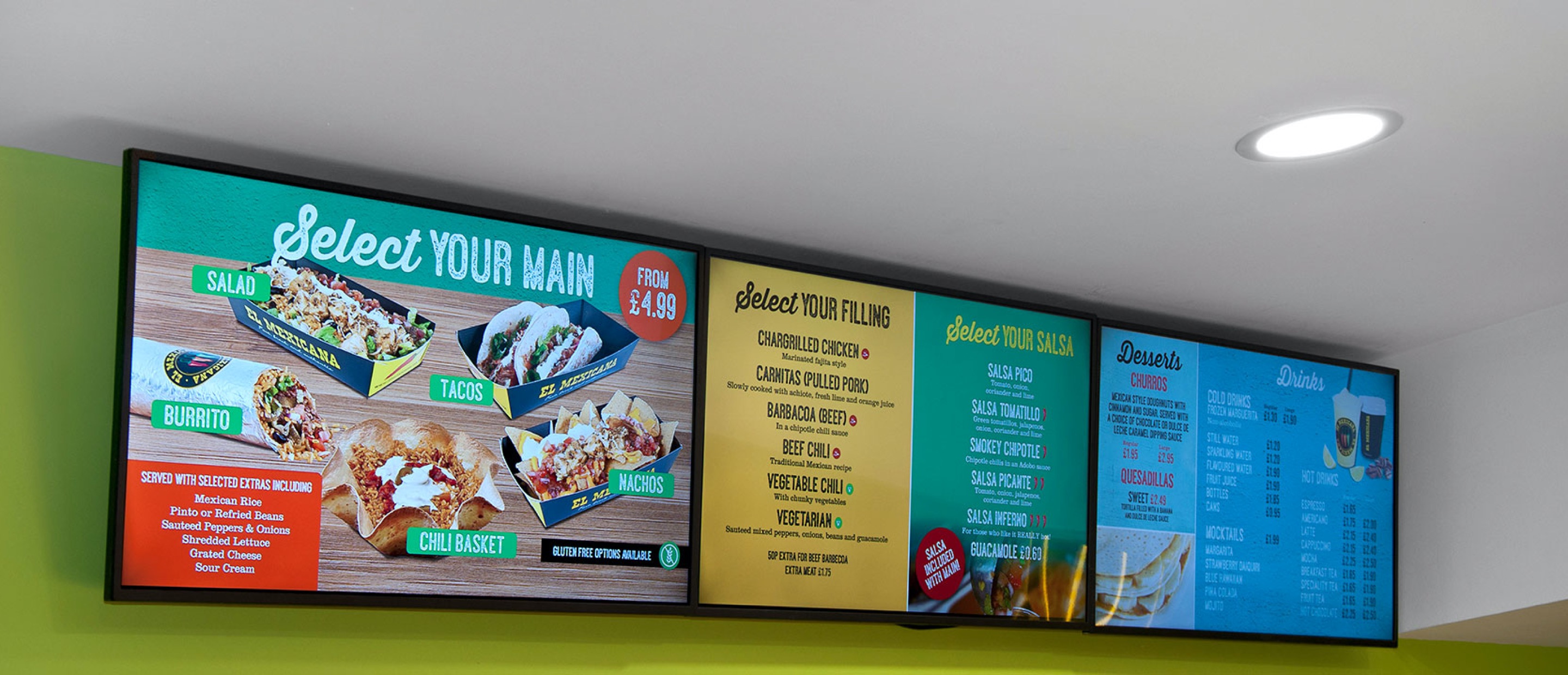 El Mexicana
El Mexicana is a fast growing franchise chain of restaurants and take-away counters across England. With a goal to be the UK's leading provider of good quality, good value, 'over the counter' authentic Mexican Street Food, El Mexicana outlets have a modern decor that reflects the bright colours of the brand and its fresh ingredients.

The company realised that they could enhance the vibrant brand identity by installing dynamic digital signage menu boards, providing them with large screens that incorporates colourful imagery with menus that are economically and easily updated as seasons and ingredients change.
​​​​​​​
Objective
To replace old-fashioned printed menu boards with modern looking screens that would compliment the vibrant look of the stores without cluttering them and to be centrally managed so that the HQ could have control over the content.


Selection process
Clevertouch was compared against a shortlist selection, succeeding as the project winner on the basis of:
Competitive Price – no hidden costs
Featre rich Content Management System
Warranty with Remote Support
Technicalities including hardware requirements, screen sizes and playout display time


Clevertouch solution
Clevertouch provided a complete off the shelf bundle solution with customised design services at an affordable price.
Bundle: SWEP-V2 & PRO-V3 media players Clevertouch design software In-house design services TV Screens
Unique Features:
Serviced from a central management account
Manage mulitple screens across multiple locations
Easy to use intuitive interface with simple editing functionality
Unlimited multimedia zones to display a variety of images, text and posters
Custom designed screen layouts
Quad screen display set-up
The results
Clevertouch was implemented as a pilot and trialled at a single store whilst new outlets were being built. On success of the pilot and completion of new stores, the package was rolled out across other locations with HQ taking management control of the content. The ability to have a custom designed template to put across four screens provides El Mexicana HQ with the ability to display menus, food images, reward information and seasonal promotions. The project rollout has proven a success and is part of the standard franchise package.
"Clevertouch has given us a great platform to engage our customers. The solutions provides us easy means to create and publish different content to multiple stores."