The workplace as we know it has changed. Institutions, businesses and organisations need to navigate the 'new norm' and introduce effective measures that can be implemented now, yet be adaptable into the future
As one of the Top 1000 Companies to Inspire Britain, Clevertouch led the way in adjusting to the new measures. All employees who could, were deployed to work from home and use the company's own STAGE technology alongside partner software solution ZOOM ROOMS for a seamless transition and continual collaboration.
Now, as the workplace begin to return to the 'new norm', it is time for technology manufacturers to step up and deliver products that will enable businesses to commence the return to work process while still keeping the flow of communication fluid.
One of the key issues to factor in will be ensuring the concerns of employees are addressed as people begin to leave their homes, which have been their sanctuary during this crisis, and return to workplaces that will be changed forever.
In addition to STAGE, the Award-Winning Ecosystem which is a joint development between Clevertouch and Sedao Digital Signage has the ability to streamline communication functionality in the workspace.
This selection of products focuses on communication and collaboration. Both software technology that can minimise contact risk, ensures the broadcasting of messages is constant, and enable collaboration to continue regardless of location.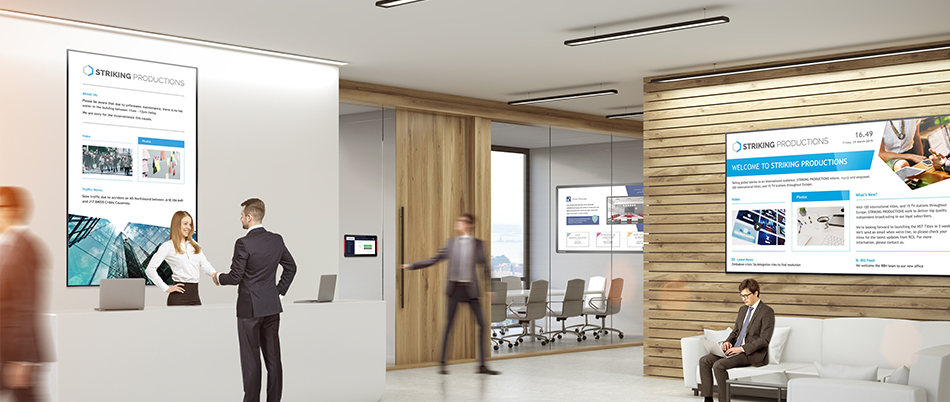 Digital Signage in reception, corridors and on your touchscreens in the meeting areas - ClevertouchLive CLOUD
To maximise the distribution of information, Clevertouch Cloud digital signage offers:
Cloud Platform to manage content display at single or multiple sites at any number of locations
Real time messaging and Live Streaming for instant updates
Virtual button messaging using personal devices to minimise sharing of equipment
Free safety posters to display on your screens ready to go
Play out your digital signage on CM Series LFD Screens
These large format displays offer features that make them suitable for staff or customer facing, meeting room functionality and standard screen display:
4K Ultra HD Resolution
Wireless Display Connectivity
Active Standby or Power Control System Manageable
In-built digital signage for full screen poster and/or video displays
Meeting room collaboration
To improve collaboration without the need for large numbers in a single meeting room, the Clevertouch UX PRO and Zoom Rooms solution panels offer:
Motion sensors are activated to reduce touch requirement – each screen fires up instantly on entry into the room
Collaborate with your Clevertouch screen on any device using the Clevershare app – whiteboard, present or meet
Easy to clean with antibacterial products to reduce contamination and the spread of germs
Different stylus for each user
Technology that enables users to wear disposable gloves whilst operating the screen
ClevertouchLive Rooms roombooking
Reduce the need to travel around the workspace looking for an available room.
Book meetings via a ME or O365 calendar.
The SLR panel glows red when booked and green when available, and a summary of all rooms can be displayed on a single LFD to make finding an available room easier without the need to travel.