Employee morale is intrinsically linked to performance and employees working in a high morale environment are more likely to show initiative, be more efficient, collaborate with colleagues and have a lower rate of absenteeism, all resulting in higher productivity.
Therefore, creating the right type of environment that encourages positive morale has become a core organisational function for employers who increasingly find acquiring and retaining good employees in a competitive marketplace a difficult and expensive prospect.
Some organisations offer workplace recreational spaces with pool tables, gaming consoles and gymnasiums, or leisure spaces with snooze pods and bean bags, or more commonly flexible hours and early Friday afternoon close to create a positive workplace. While these types of methods can be effective, recent studies show that lack of communication is in fact one of the primary causes of low morale in the workplace when in reality it is one of the simplest ways to boost staff morale.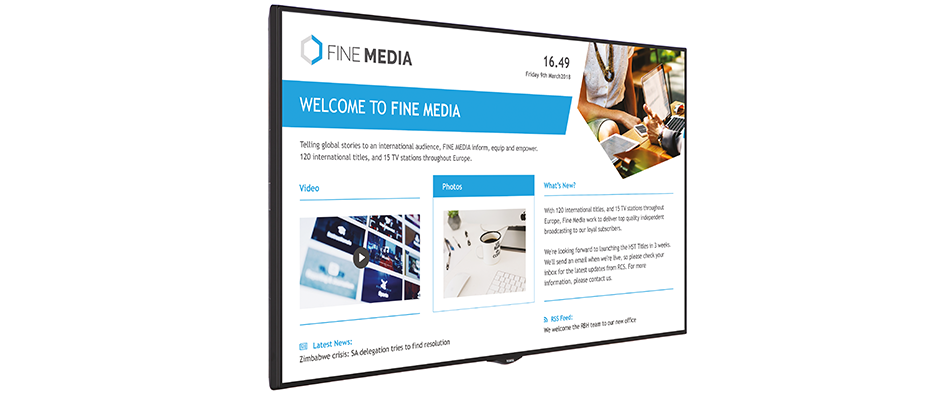 Cost-effective Communication
Cost-effective communication is a welcome relieve for smaller businesses as it enables them to compete for good staff and embrace technology by introducing digital signage to the workplace ensures the communication presented to employees is accurate and current.
Digital signage, whilst an initial investment, offers any sized organisation the ability to update, edit and display information to engage with staff in a cost-effective.
With the ability to display multiple types of media content such as images, videos, RSS Feeds, rolling text messages and more.
CleverLive CLOUD Platform
The CleverLive CLOUD platform, one of the most fully featured and simple to use solutions on the market, goes even further with remote log in capabilities, ready to brand templates, options to delegate content editing permissions across departments, and a quick drag and drop function for sending presentations to screens. Customers using CleverLive CLOUD can be up and communicating with staff within two minutes of installation it is that easy.