The world is lighting up – since the first neon sign was made over a hundred years ago, businesses have been looking for new and colourful ways to brighten up their shelves, walk spaces, or information points.
Digital signage is today's and tomorrow's answer to the problem. But what is it and how can it be applied?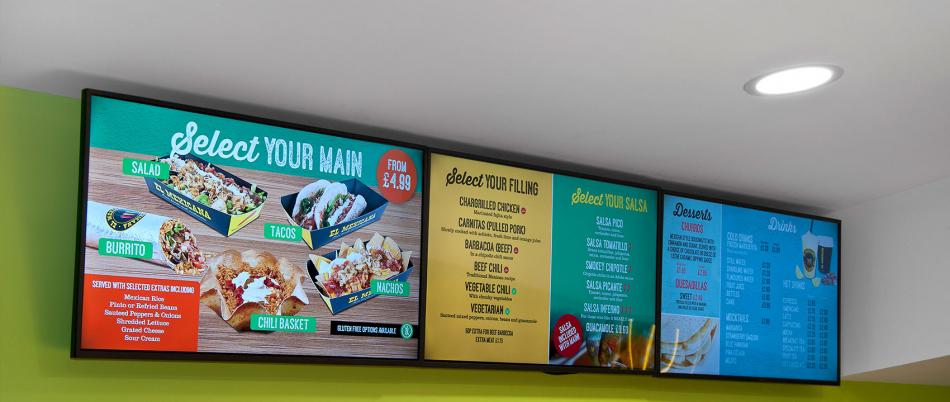 What is it?
Digital signage is simply a digitised version of the traditional sign post or message board. It is easily recognisable; from the food menus at MacDonald's to the train station notice boards on your way to work; digital signage is rapidly becoming the norm for businesses.
"Over 40% of shoppers say that digital displays can change what they buy because relevant information is served close to the point of purchase."
Why use it?
It helps organise work places, boost sales, and display advertisements in a more interactive way than ever before – capable of passing far more information, often instantaneously than traditional boards. A digital signage solution can help managers easily organise meetings with instant messaging across connected screens, streamlining the classic pin noticeboard of yesteryear.
There are numerous examples of how digital signage is generating more sales and creating greater efficiencies for businesses – here are just a few:
To showcase company highlights and client work in receptions or foyers for waiting guests to browse
Ability to schedule messages and promotions for global or national campaigns across different time-zones, such as Black Friday or Public Holidays
Schedule internal-workplace meetings in real time, while providing a platform to interactively showcase the topics on-screen when the meeting convenes
"92% of hoteliers believe by 2020 guests will expect to be able to tailor their stay with self check-in kiosks."
The Bank of China's Hong Kong office deployed a digital signage video system to facilitate crucial day-to-day employee tasks – such as monitoring the latest financial trends, market fluctuations, and regulations in real time
Install in hotel lobbies, stadiums, and theme parks to help tailor experiences, direct foot traffic, encourage ticket sales, or simply pass on information such as the weather forecast
Helps to convey whole product menus in a sliding manner, such as the entrance to a self-service restaurant. It enables companies to slim the crowded page to a revolving selection of single items, leaving more room to promote individual products and boost sales.
Digital signage and your business
Digital signage used to be an expensive investment that only large businesses could exploit. The technology has advanced and become considerably cheaper since then, meaning SMEs can now reap these benefits too.
Clevertouch provides an all-encompassing package including cloud-based connectivity, bespoke design solutions for show reels, on-site and remote support, and is the only solution available that can merge with a company's existing room-booking system. Digital signage has been adopted throughout many different industries, such as healthcare, entertainment, hospitality, transport &c – it is the future for businesses, both for commerce and management. If you are looking to boost sales, brighten up waiting rooms, or streamline the office – digital signage is the solution.