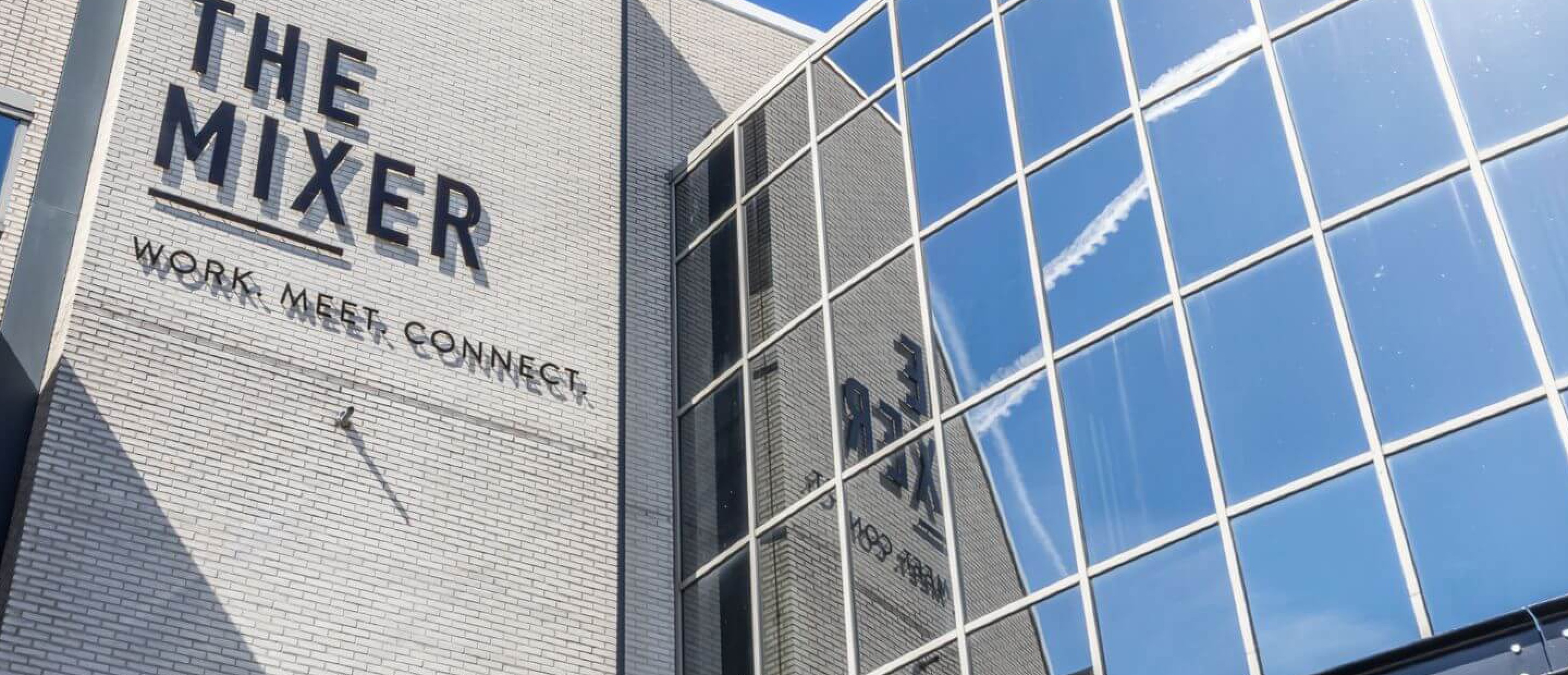 The Mixer
WORK. MEET. CONNECT. it states prominently on the building. Modern, stylish, characteristic, and durable, it is no coincidence that The Mixer, an office concept located in Apeldoorn-South on the industrial estate Wilmersdorf?, is the location where the Dutch branch of Clevertouch is located.
About The Mixer
The challenge was to achieve the following: Offer users the best possible intuitive and simple solution.
The office complex was recently renovated and made sustainable. During the development, one of the considerations was on how the future "residents" were going to use the location and which technology would be involved.

The Mixer is an inspiring environment with F&B facilities. It is spacious, with many seating areas and a nearby park to get a fresh breath of air. The reasoning behind all this is to make people feel as comfortable as possible within the functional area. Part of the concept is shared meeting rooms, designed for optimal usage of both location and occupancy, "but how could technology support this??, says Martijn Muller of Allround Investments B.V.

The development company wants everyone to use the offered facilities, so new tech has to accommodate every user in an intuitive way.
What the client said
"The introduction to Clevertouch was very enlightening and was the perfect solution for our meeting rooms, helping us to fulfil our vision and concept of a 'central heart'."
"How can one use the shared space? How can tech help to maintain the attention of users and promote interaction? And how can we avoid double bookings? These kinds of practical and functional questions helped define the final result."
The solution
The visible results and feedback we received were positive. An important factor is intuitiveness, which means that it does not form a barrier to someone with limited technical knowledge.

The rooms are reserved by invitation via your calendar application (Exchange / 365). The room booking display then shows the occupancy by time slot and clearly displays red for booked and green for available. In addition, there are many other possibilities, such as personalization and the option to display company messaging when the room booking screen is not in use.

The meeting room is also equipped with an 86" UX Pro display. For some users it may be their first time using a large format interactive display.
The results
To begin with, the display was not being utilized to its full potential, it was being used as a static display rather than a tool for collaboration. "We have seen a change in this behavior,? Martijn continues, "because of the open-plan spaces, you see more people participating in interactive meetings, also walking up to the display and taking notes?.

Clevershare is yet another perfect addition that makes working at The Mixer easier and more user friendly. Combined with BYOD, Clevershare allows wireless, hassle-free, and secure meetings.
"Our goal was to use technology to create a solution that was simple and effective, that supports the user."