The Duke and Duchess of Sussex recently visited a new £35million Tech Park development based at the University of Chichester, where the Duchess was invited to take part in an experiment using Pro Series from Clevertouch, installed in the new state-of-the-art engineering labs.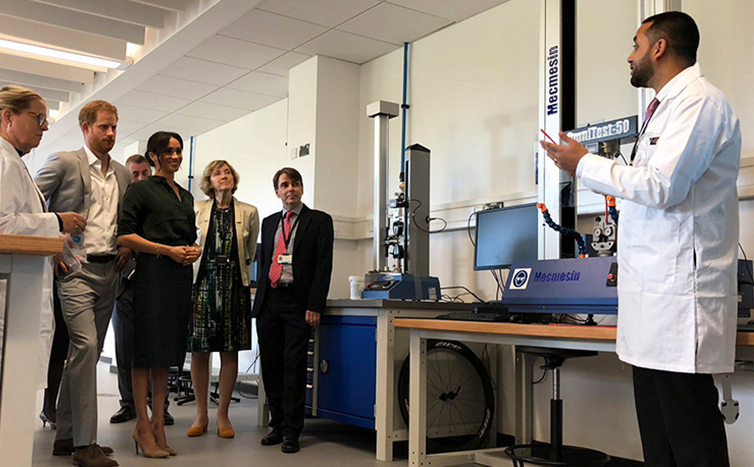 University of Chichester
The new Tech Park features equipment installed by AV integrator Reflex and includes an animation studio designed by Max Tyrie, Head of 3D Animation and VFX, who is a BAFTA award-winning animator and has worked on Kingsman films and Spiderman franchise. Clevertouch displays have been installed in the Engineering Labs and in the 300 square-metre Sound Stage musical performance area, large enough to accommodate a professional orchestra.
During their tour of the Engineering Labs, the couple took part in a live-action stress-testing experiment using high-tech Mecmesin tensile equipment, the results of which were displayed on the Clevertouch screen.
Welcoming the Royal couple was Vice-Chancellor Professor Jane Longmore, who said: "It is an honour to have been chosen as part of The Duke and Duchess of Sussex's first official visit to the county. Not only are we welcoming the Duke and Duchess of Sussex on their first official visit to this historic county but we are also delighted that they have agreed to undertake the task of formally opening this magnificent new Engineering and Digital Technology Park.
"This is a University which takes its obligations seriously: within the West Sussex coastal region there are areas where pupils are six times less likely to enter higher education than in more affluent parts of the country. This building is a physical embodiment of our commitment to social justice, to ensuring that the children of this region have the strongest possible life chances and that they can become the engineers, technologists and film makers of the future.