Live Rooms – Easy and versatile room booking
Live Rooms is a room booking solution that simplifies your meeting room booking process. With the ability to book from your desktop PC calendar or live at the source, Live Rooms has LED lighting to see at glance the status of the meeting room ensuring staff can swiftly locate a meeting room without wasting valuable productivity time.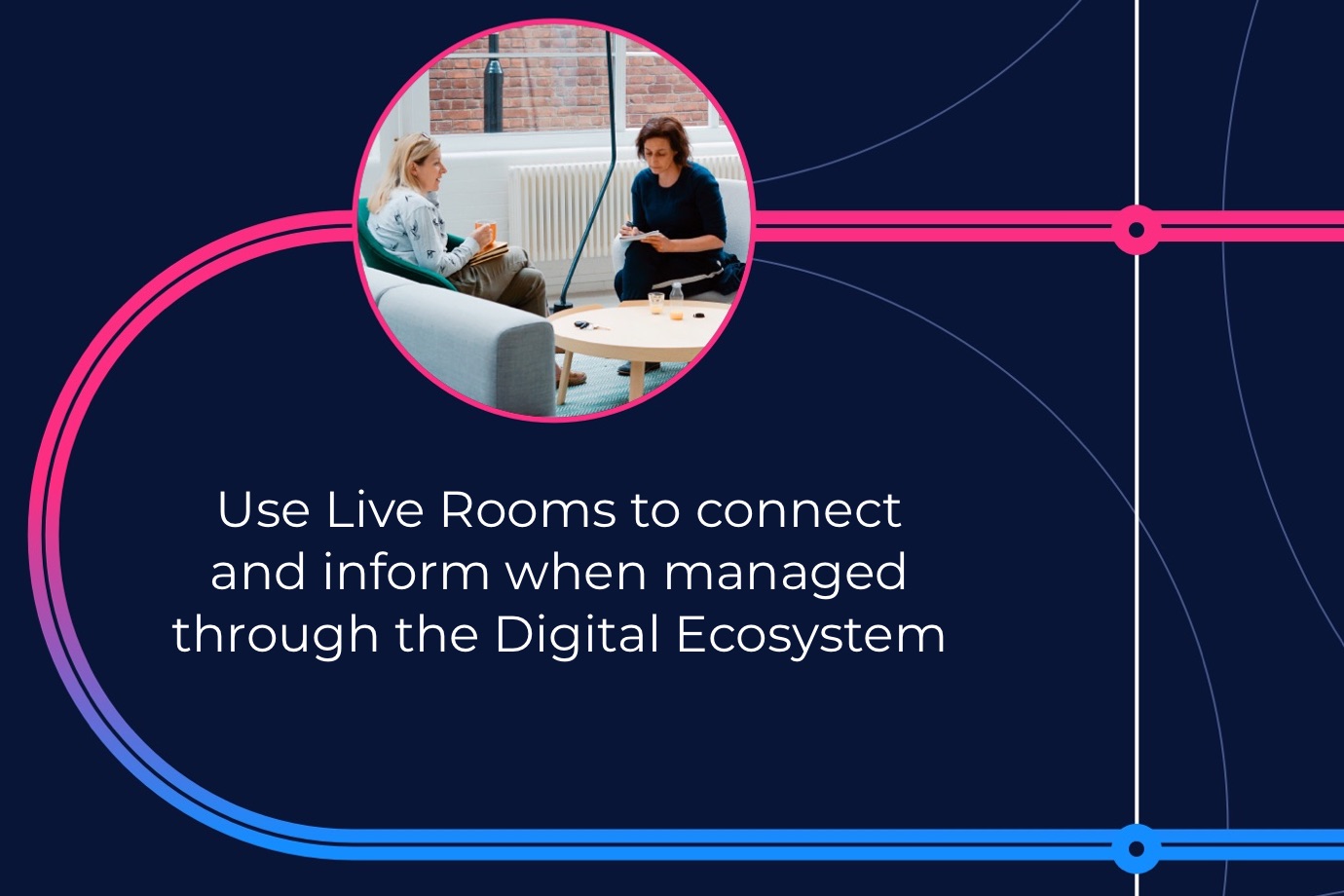 Integrated
A part of our Digital Ecosystem
Live Rooms si integra con l'Ecosistema Digitale Clevertouch in modo da poter riprodurre il digital signage sul pannello di Room Booking e inviare messaggi agli schermi di digital signage, ai pannelli interattivi e a quelli di prenotazione delle sale. Invia messaggi istantanei e promozioni, comunica con il personale dalla stessa piattaforma da cui gestisci la prenotazione della sala.
Semplice interfaccia touch
Si integra con Microsoft Exchange
Gestisci contenuti online con SedaoLive
Lettore di segnaletica digitale con funzioni complete
Staffe per fissaggio a parete
Desktop completo per visualizzare la gestione delle prenotazioni delle sale
Personalizza il tuo display
Modelli modificabili con marchio personalizzato della tua azienda o dei tuoi visitatori.
Consegna il tuo messaggio
I display possono essere utilizzati come segnaletica digitale per presentare messaggi promozionali e avvisi di emergenza.
Visualizza lo stato di disponibilità
I pannelli mostrano la disponibilità della sala con l'illuminazione rossa quando è occupata, arancione quando è prenotata e in attesa di essere richiesta e verde quando è disponibile.
La pianificazione della sala riunioni viene visualizzata sullo schermo per consentire agli utenti di prenderne visione.
Migliora l'esperienza dei meeting
Prenota le sale tramite Microsoft Exchange o il calendario di Outlook 365 per le riunioni pianificate oppure direttamente alla fonte dal pannello touch.
Tutti i tipi di settore
Sistema di prenotazione delle sale adatto a tutti i settori, inclusi business, conferenze, formazione e istruzione.
Tutte le funzionalità di SedaoLive
Scegli tra una gamma di modelli di layout e personalizzali per incorporare testo animato, immagini, filmati, orologi, feed di notizie e molto altro ancora.
Come funziona
Grandi funzionalità e semplicità di Live Rooms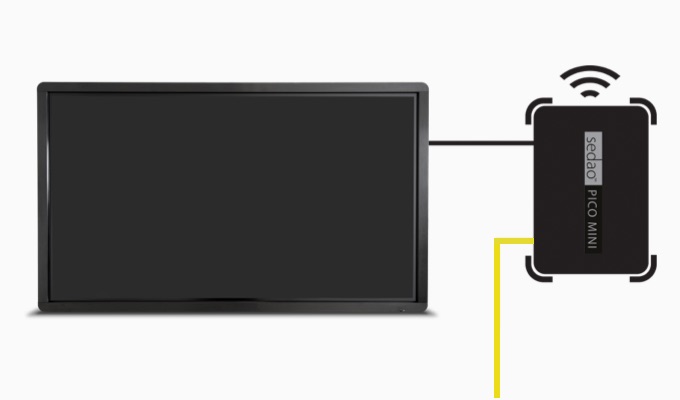 Connetti
Collega la tua segnaletica digitale CleverLive CLOUD al display di Live Rooms per inviare avvisi istantanei.
Find out more.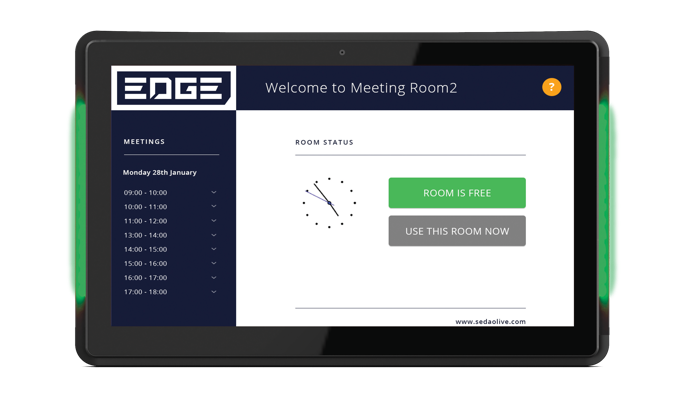 Prenota alla fonte
Prenota tramite Outlook 365, Microsoft Exchange o alla fonte. Ideale per pianificare in anticipo o per organizzare riunioni in corsa.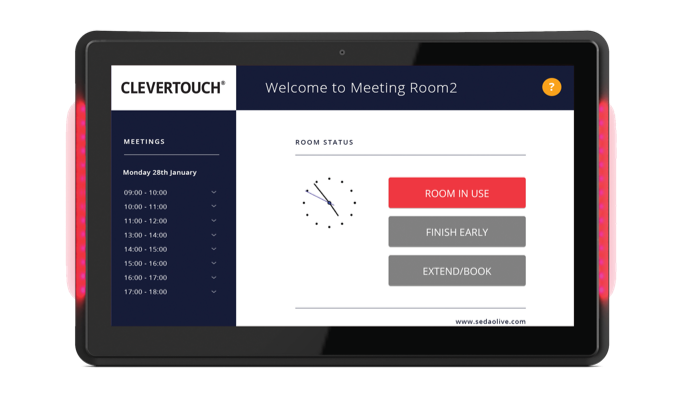 Display (Disponibilità)
Disponibilità codificata per colore: il rosso indica che la sala è prenotata e il verde che è disponibile. Aggiungi valore e mostra messaggi di segnaletica digitale quando non in uso.
Find out more.
Specifiche
Alta risoluzione da 10 pollici (1280x800) - Area attiva 216,96 A x 135,6 W.
WiFi integrato e porta Ethernet
Tensione di ingresso 12V / 2A - Power over Ethernet
CPU Octa-core cortex - A53 1.5GHz, RockChip, RK3368
USB, Micro USB, RJ45, Serial Port, DC - Interfaccia audio / video HDMI
Tocco capacitivo - 10 punti
2GB RAM, 8GB di memoria interna
Illuminazione a LED rosso / verde
Staffa per montaggio a parete
Animazioni Flash
Orologi
Live TV
PDF
Siti Web
HTML 5
Testo animato
Feed di news
Touch compatible
Powerpoint
Foto & Slideshow
Filmati
Per scaricare la brochure di Live Rooms compila il form sottostante