Digital Signage
Clevertouch delivers an award-winning complete Digital Signage Communications solution. With a comprehensive range of hardware and software products, the digital signage platform is designed to integrate to create a digital signage package tailored to suit your specific project requirements whether a single screen, video wall, menu board, multiscreen site, or a global rollout.
Clevertouch and Sedao merged in 2017 to become a powerhouse solution manufacturer.
Dedicated Solution
CleverLive manufactures dedicated Digital Signage solutions that are ideal for both internal and customer-facing communications.
Users can engage dynamically with a large targeted audience to display messages that incorporate media formats such as text photos/images videos, web pages RSS feeds, and social media pull-throughs.
Completed Solution
Clevertouch Technologies manufactures a complete Digital Signage solution that is ideal for all areas and application needs of the organisation.
Managed from a single-web-based cloud platform, the range includes Professional Displays, Free Standing Kiosks, Room Booking panels, Collaborative Whiteboards, and Interactive touch screens.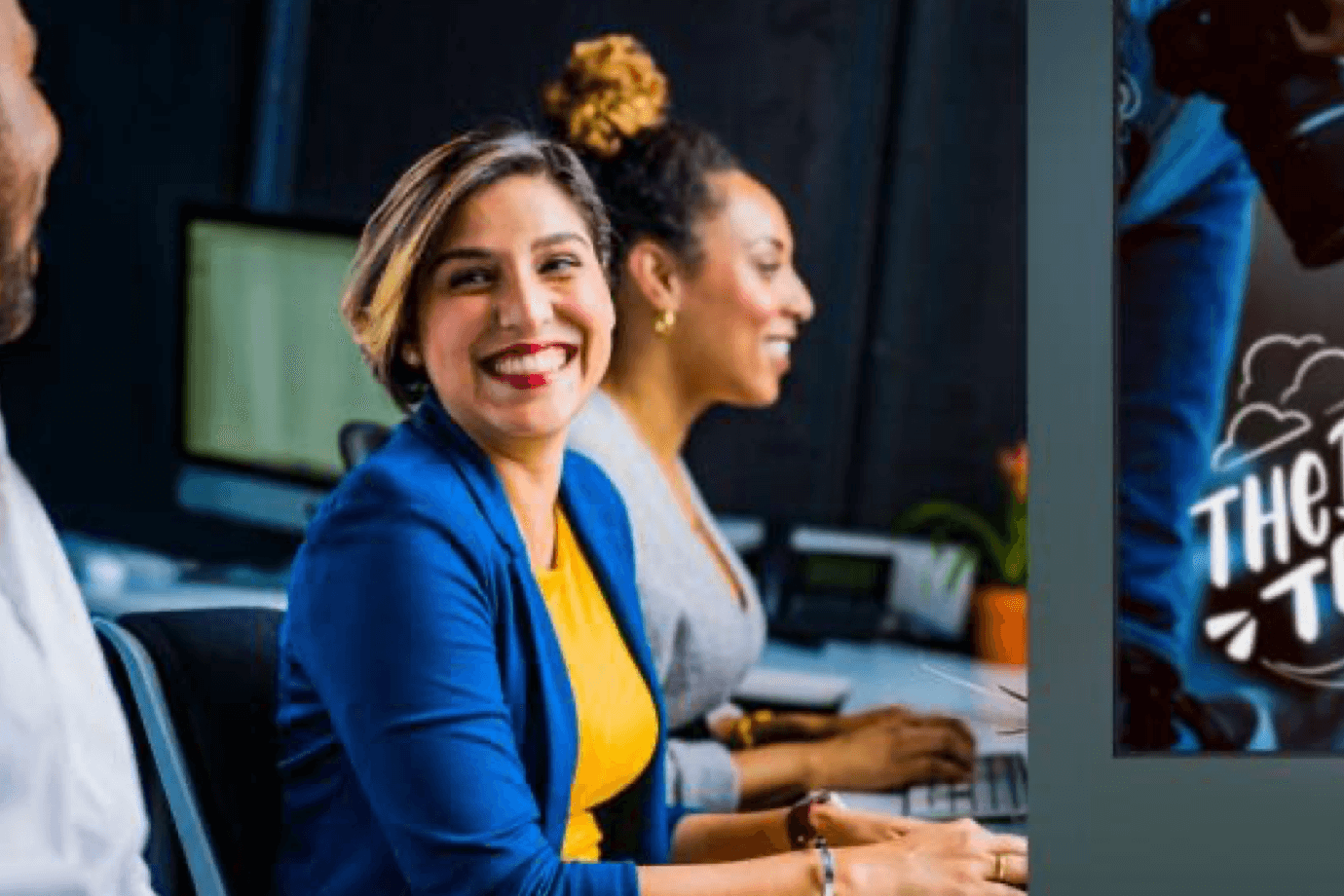 The Powerful Solution
Internal Communications
Forget bulk emails that don't get read, printed dog-eared notices on pinboards, or the piles of internal memos that get distributed and disregarded, corporate digital signage is a more effective way to communicate internally. Whether you want to send internal communications, track KPIs, or update staff on the latest policy, Clevertouch Technologies revolutionises the ways you can communicate internally.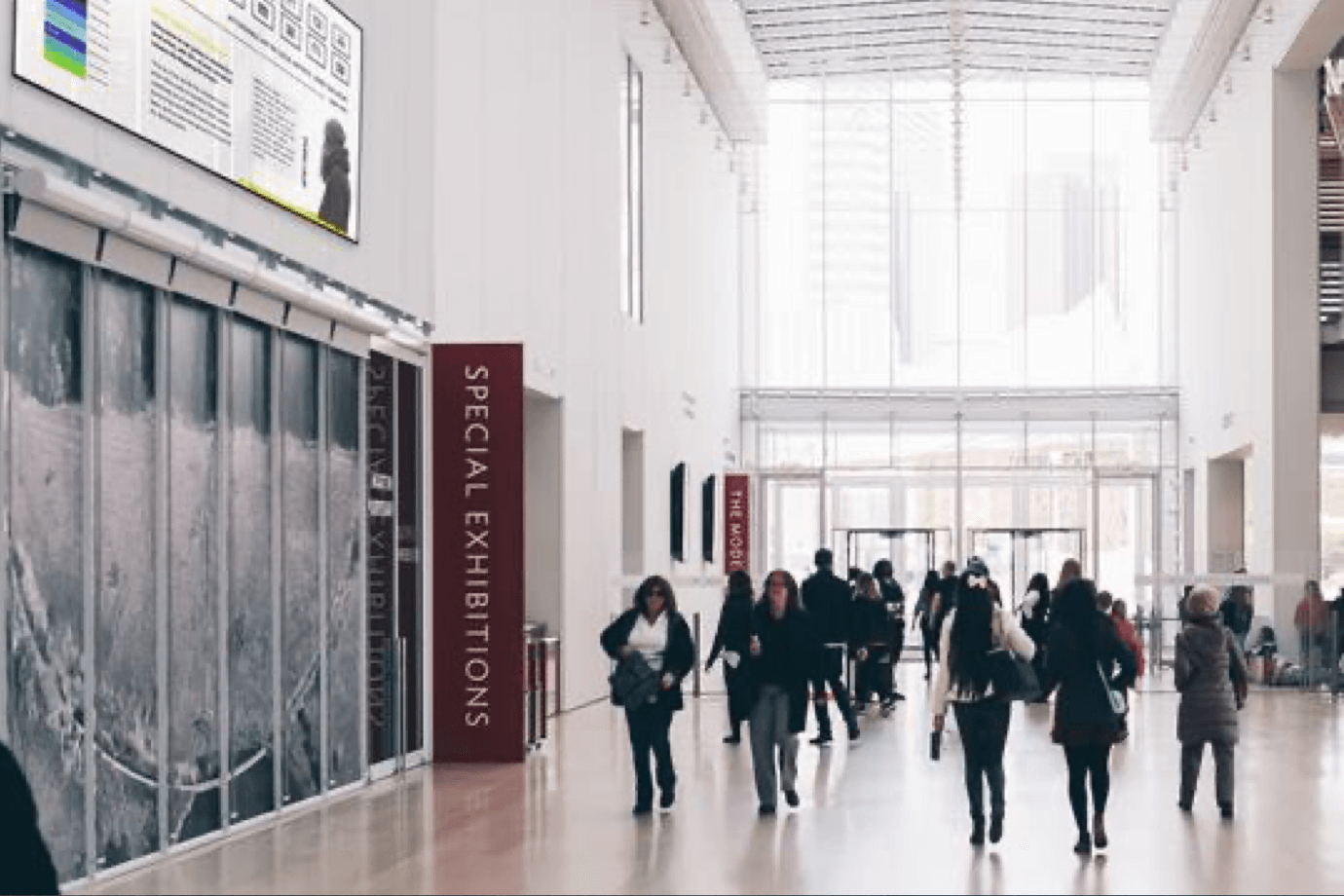 Engage & Influence
Customer Communications
Communicate easily with customers or visitors to your building with static or interactive digital display systems. From providing valuable company, marketing, and safety information to directions, inquiries and simply showcasing your work and projects, dynamic digital signage displays help engage with your audience.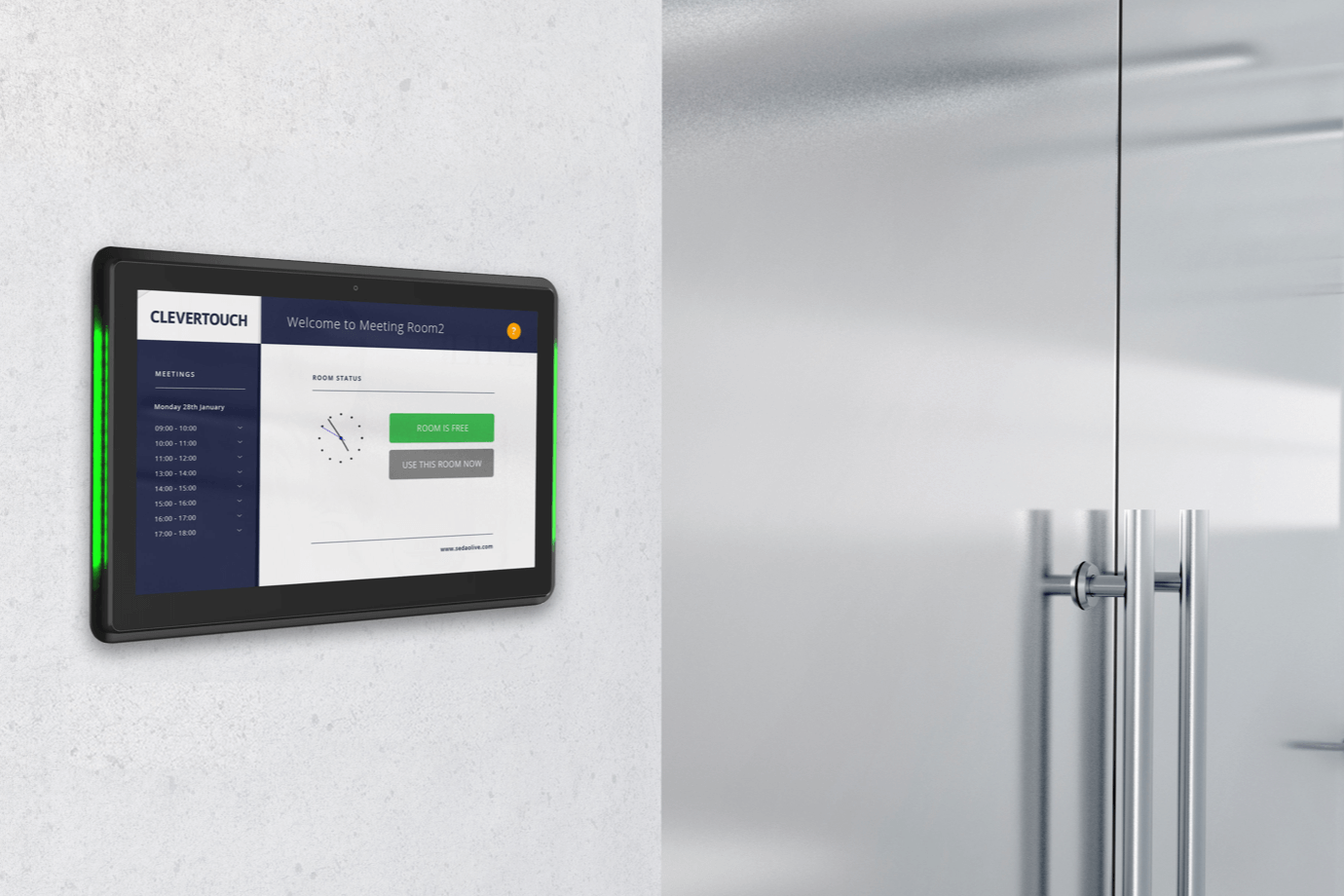 Organised Efficiency
Room Booking Systems
Our Live Rooms interactive Room Booking System improves the meeting room booking process. Staff can book rooms from desktop ME/O365 calendars or at the source, as and when required, cutting down on admin time and preventing double-booking. Our easy to use room booking software manages all bookings for you and displays room availability at a glance. The panels can also display digital signage messages and instant alerts to keep staff nearby informed at all times.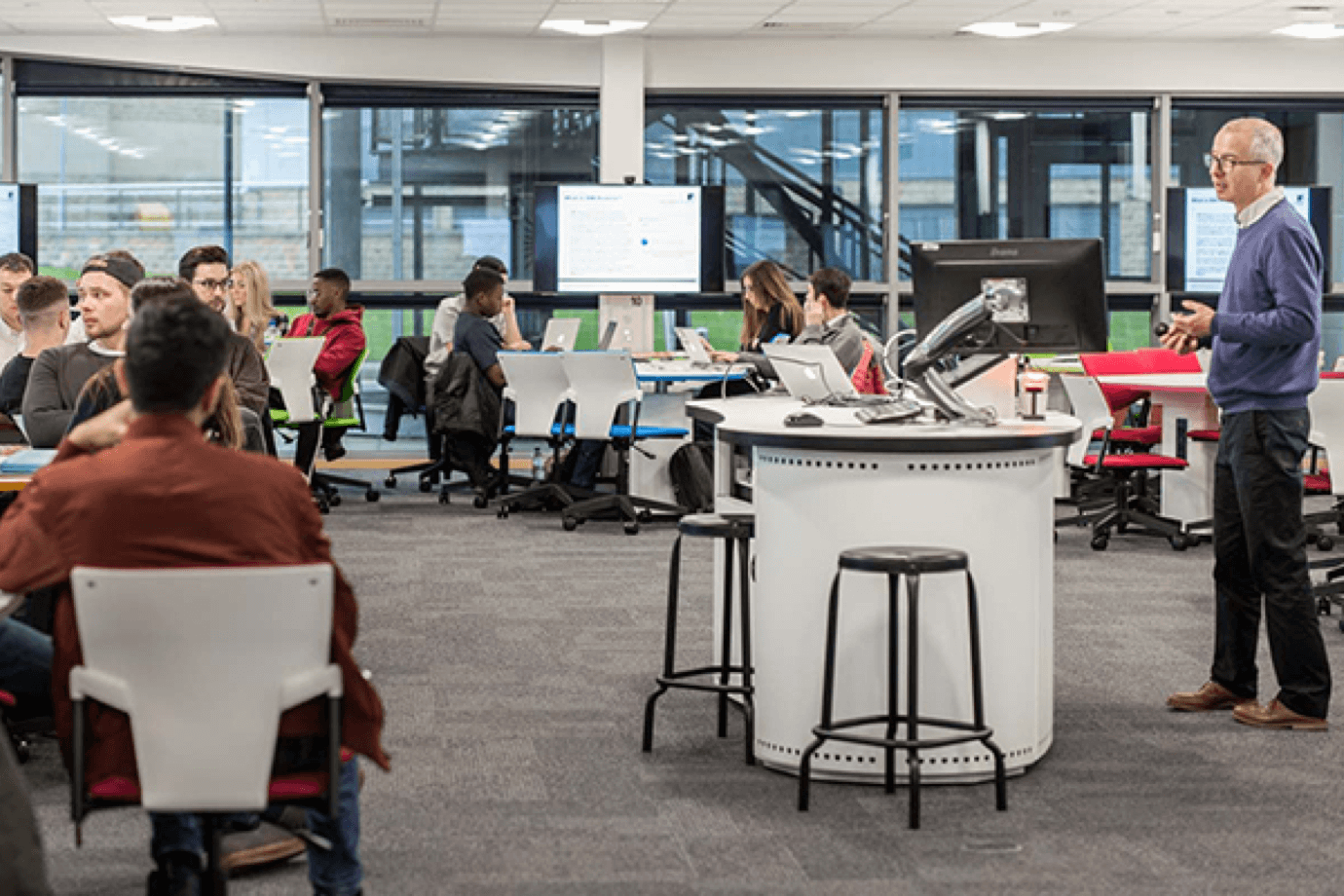 Create Impact
Kiosk Displays
Professional Displays are perfect for making your trade show kiosks stand out from the crowd. From interactive displays showing your services and catalogues to case studies and key information help your company get noticed.
Creating A Seamless Internal Communication Network With Digital Signage
An internal communications strategy allows you to keep employees engaged and informed on company policy such as OHS and HR information, recognise employee achievements, visualise sales and safety KPIs, live news feeds & more.
Instant messaging is also possible with the ability to broadcast fire drill announcements and other safety alerts across all screens including LFD's, Room Booking, and Collaborative Boards.
Implementing digital signage reduced the need for constant emails, phone calls, and meetings, and with Clevertouch Technologies providing editable
templates the Digital Signage message can be customised to suit the company brand within minutes.
Communication Strategies can include:
Internal communications for staff – welcome messages, company policy details, site safety information, career opportunities, success achievements, awards, and updates of external news.
A successful strategy that keeps information relevant is a key motivator for staff.
Live News Feed
Provide easy access to company news and industry-relevant information for your employees to keep them on top of developments in fast-moving work environments. Set up custom news for each display and communicate more effectively.
KPI & Dashboard Systems
Keep track of department progress, boost employee morale, and let everyone see sales and key data with KPI and Dashboard Systems that allow you to effectively communicate key company information to all of your staff.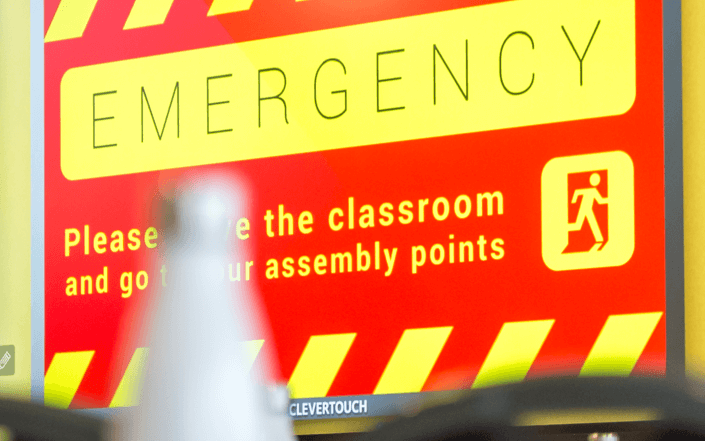 Quick and Succinct
Content Triggering
Our systems allow you to set up bulletin alerts and emergency messages for instant communication across your company. Whether you need to update everyone on the latest health and safety guidelines or quickly communicate internal changes our Content Triggering Systems are there to help.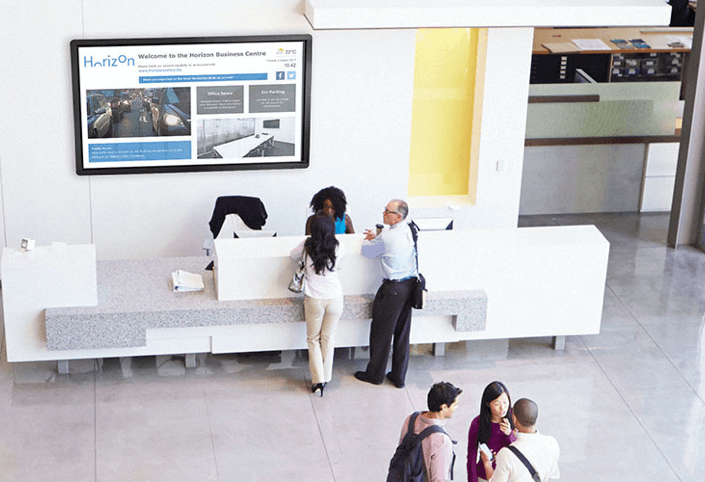 Create the Right Impressions
Content Triggering
Creating a welcoming environment for visitors both customer and suppliers ensures a positive first impression and enables you to promote products, display induction videos, advertise employment opportunities, meeting room information, and more. Our software allows you to create separate displays for each screen to help you communicate with each group more effectively.
Integrated Hardware
& Software Solutions
Our dedicated teams will work with you to provide an integrated hardware and software solution package that makes it easy for you to communicate your digital signage message.
Our solutions include:
Digital Signage Software – CLOUD and LOCAL CMS
Digital Signage Media Players
Professional Displays
Room Booking Panels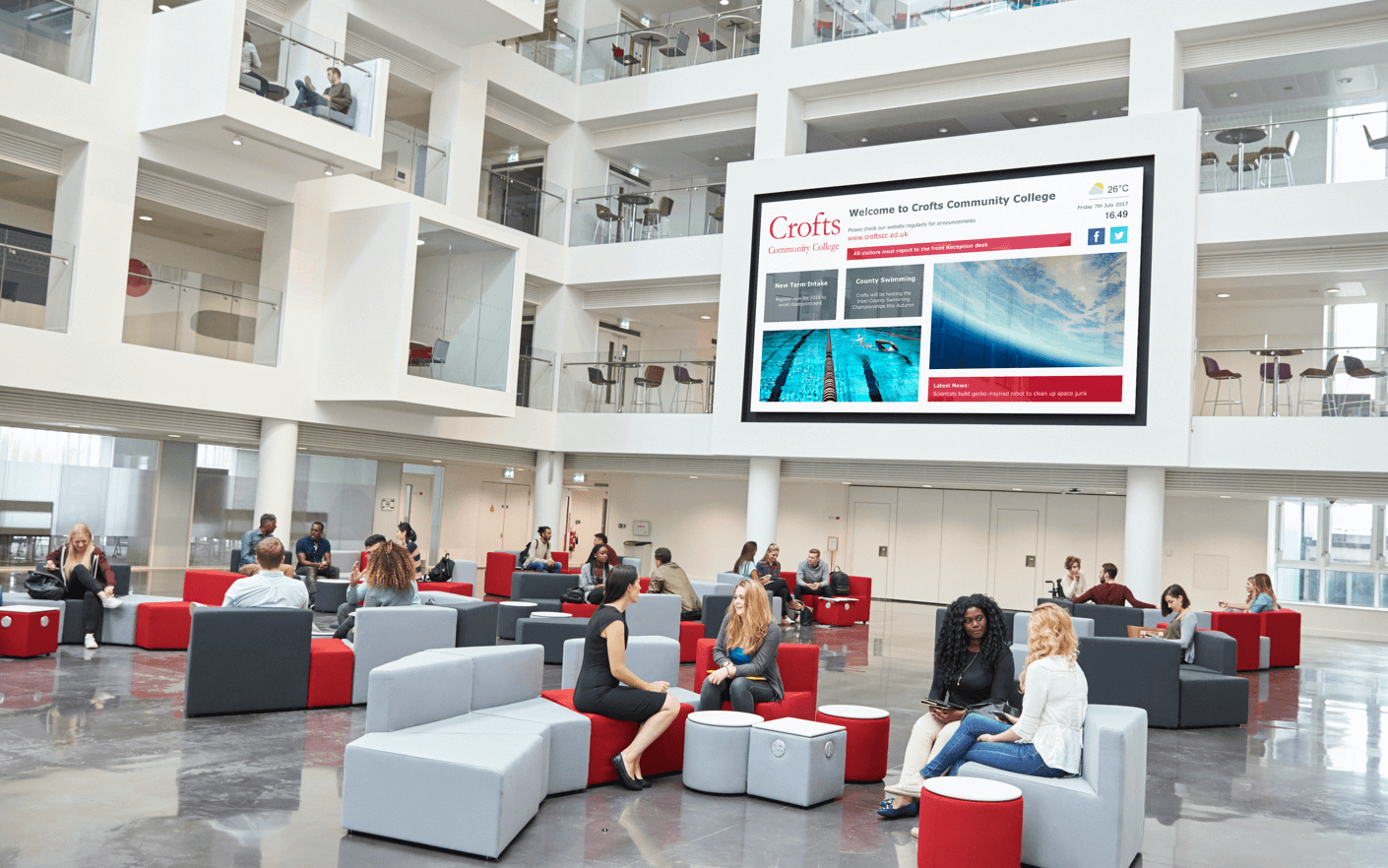 Big On Reliability
Professional Displays
Our Professional Displays are specifically designed for continuous use, providing high-quality display systems in perfect graphics From small meeting room or office displays to giant foyer displays we can provide and install Professional Displays for every area of your premises.
Market-leading Software
Our Market-leading Software allows you to easily create, manage, and distribute visually-stunning displays throughout your business. Choose to edit and brand existing templates, create your own, add feeds, videos, music, and images to help you communicate your messages effectively.
Media Players
Our Media Players help you centralise all displays. With playout software, landscape display systems, wall or ceiling mounting brackets, plus quick and easy to use the software, our Media Players provide a simple solution to connect your digital displays, create tailored content and display programmes as well as control the playback of each screen.
Quick and Succinct
Interactive Screens / Touch Screen Displays
From providing and collecting information to meeting Room Booking systems, we can provide you with interactive digital displays and tablet displays that make internal and customer communications easy to manage.
To download the Digital Signage brochure, complete the form below
To download the Digital Signage Features & Benefits brochure, please complete the form below.