Rebecca Woodward, Internal Sales Team Leader
I joined Clevertouch when I was 20 years old, and at that time I was the youngest employee. I can't believe I've now been here nine years, as in my head I still feel mid-twenties. I started in a new business role, which developed into key account management. Two years ago I was promoted to Team Leader of the internal sales team. We're a very close-knit team - almost like family… I am often referred to as the "grandma" of the sales team. I absolutely love the team I work with so it is a privilege to work alongside Brett (Sales Manager) helping the team.
​​​​​​​
Chloe Lewis, PA to Directors / Office Manager of The Gallery
Hey, I'm Chloe and I've been with the company for 6 years, starting in Customer Services in 2015 processing orders and raising invoices. I joined the Secretarial team in December 2016 working for the Directors and have attended many events since then including Bett, ISE and Partner Event. I have an interest in HR and gained a CIPD level 3 qualification. I have been an associate member of the CIPD since December 2019. I am currently PA to the directors and will be heavily involved with the London showroom as Office Manager and I am so excited for restrictions to lift so we can finally invite customers to our amazing space. It can be challenging working in a male-dominated industry but it's not about being the loudest voice in the room, it's about being confident in yourself and achieving goals you set out to do. In my spare time you will find me playing piano, listening to music or out with nature taking photos of the wildlife and scenery.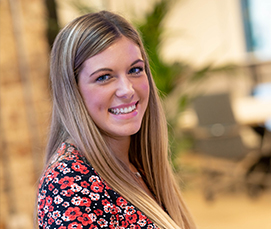 Corinna Denbow, Marketing & Events Coordinator
September will be my tenth year at Clevertouch. I started with a very long job title! 'Secretary to the Directors and Marketing Services Administrator'. After three years I was promoted to Marketing & Events Coordinator. I was a single mum when I started, and the company was great at being flexible and allowing me to change my hours to accommodate childcare arrangements. I loved the events side of things, and was given the opportunity to develop that part of my role, and organise key events and exhibitions, including the Partner Event, a three-day conference with over 300 delegates. Like many working mums, I've been juggling Zoom calls with home-schooling and a lively toddler for the past year. I'm looking forward to the kids going back to school, then I plan on doing two days a week in the new London Gallery, and three days at home.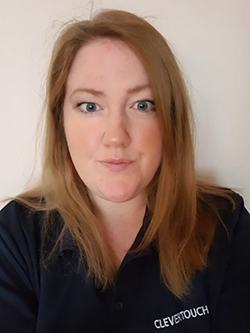 Helen Kenniff, Product Marketing Manager - Digital Signage
International Women's Day is a great opportunity to celebrate women in many industries, particularly those who have chosen to make a difference in roles that have predominately not been seen as female centric. I have only been in AV/DS industry for 5.5 years, but before that I was employed in male dominated industries such as motor-racing and mining facilities management so I came in to the industry prepared to do the hard yards to create a satisfying career in a continuously changing environment. However, I am not a maverick, there are many successful women in the AV/DS industry and it is a fantastic industry to work in, particularly at Clevertouch Technologies where colleagues are always supportive and there is a positive environment that encourages the team to succeed. As Product Marketing Manager of Digital Signage, my role is diverse, one day I can be doing market research with end user customers and gathering data on future technology trends to feed back to our development team, other days I can be working with the marketing team on our global campaigns and events, then other days I liaise with our channel partners, demonstrating our products and supporting them with project opportunities. Whatever the day brings, it is never boring and I encourage more women to become part of this exciting world of technology.
​​​​​​​​​​​​​​​​​​​​​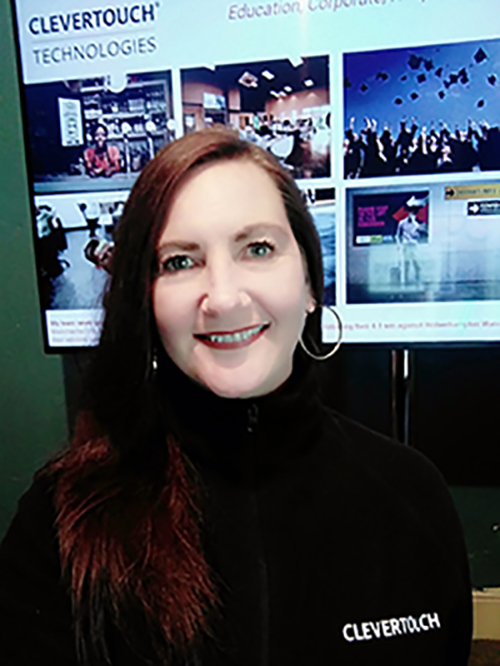 Lucy Wigley, New Business Executive
I've been with the company for 6 years now, I started in purchasing as a purchasing assistant, processing orders, liaising with suppliers, and booking goods in with the warehouse. I was then promoted to acting purchasing supervisor for 2 years and I loved every minute of it. In October 2019, I really fancied a changed in career, I spoke to the Internal Sales Manager Brett Stallard and he was happy to take me on knowing how I worked in Purchasing. I wanted to carry on working with Clevertouch as its one of the best companies to work for, being a mum is always a challenge but they are so flexible regarding childcare. Since Jan 2020 I've been working with the Internal sales team, as a New Business Executive, I absolutely love my job, speaking to different customers every day, I get on so well with all of them. I'm looking forward to meeting them all in our London showroom, partner events and BETT when we can. We've had a lot of ZOOM/TEAMS meetings but it's not the same as seeing them in person. Our sales team has a great mix of characters and we're like one big FAMILY.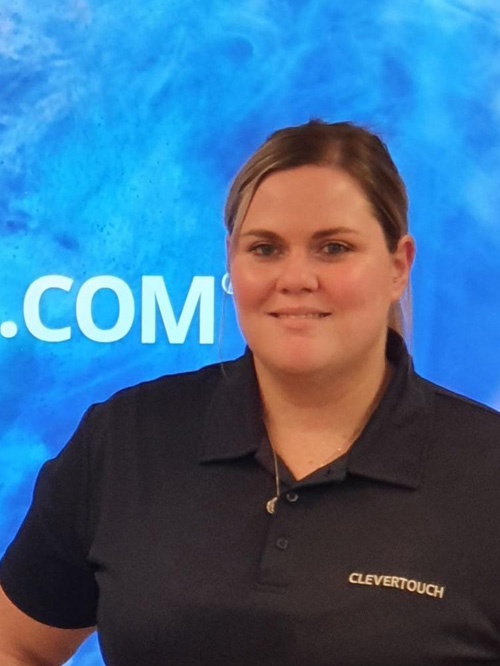 ​​​​​​​