Live Rooms – Gemakkelijk en veelzijdig ruimtes reserveren
Live Rooms is een oplossing voor het reserveren van vergaderzalen welke uw boekingsproces vereenvoudigt. U boekt de kamer vanaf uw PC agenda of bij de ruimte zelf via de display. Live Rooms heeft LED-verlichting om in een oogopslag de status van de vergaderruimte te zien, zodat het personeel snel een vergaderruimte kan vinden zonder verspilling van kostbare productiviteitstijd.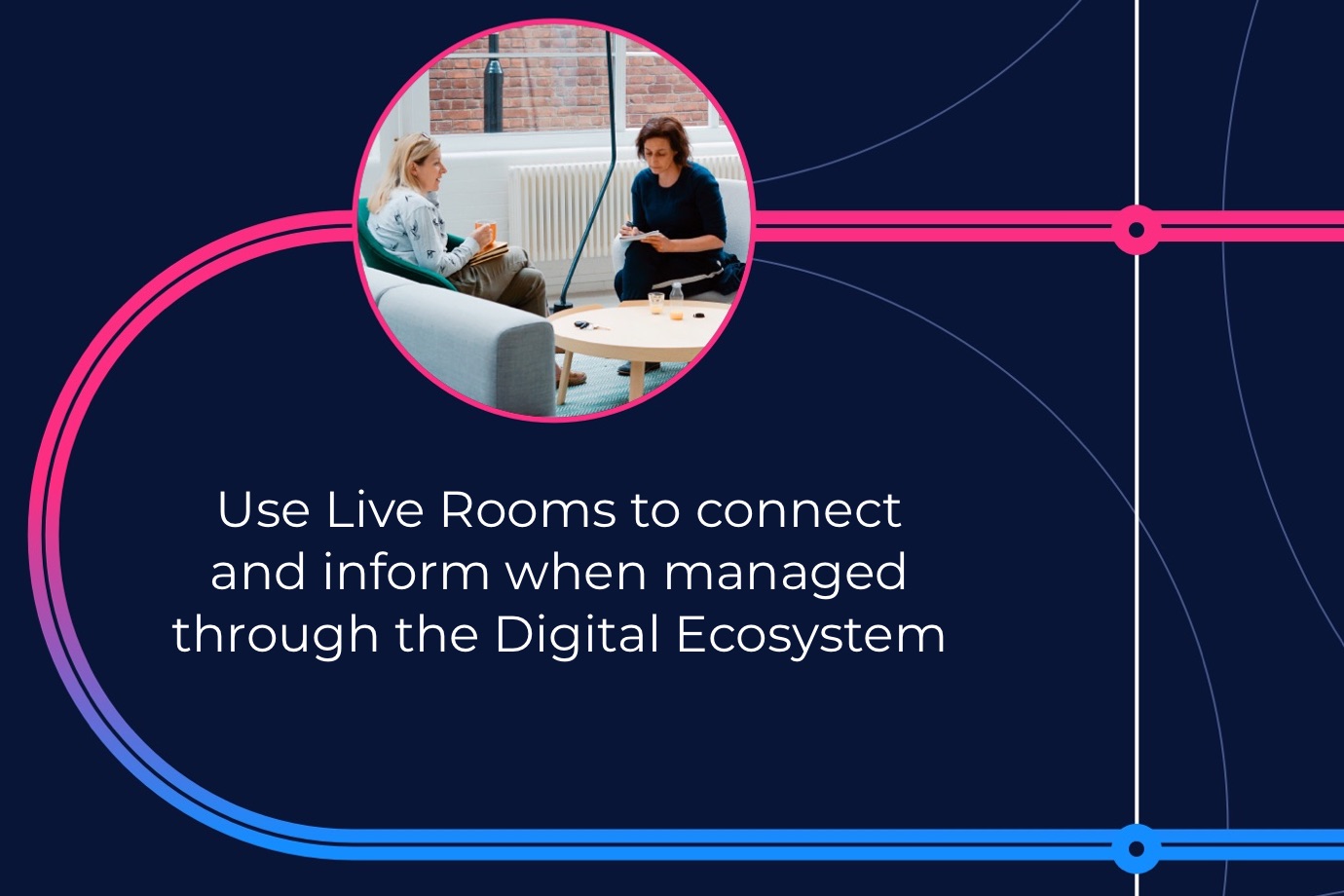 Geïntegreerd
Een deel van ons Digitaal Ecosysteem
Live Rooms integreert met het Clevertouch Digital Ecosysteem zodat u digital signage kunt afspelen op de reserverings schermen en berichten kunt sturen naar uw digital signage schermen en interactieve display. Verstuur instant berichten, promoties en communiceer met het personeel en bezoeker, allemaal vanaf hetzelfde platform waar u uw reservering beheert
Eenvoudige touchscreen interface
Integratie met Microsoft Exchange
Online inhoud beheren met CleverLive
Volledig functionele digital signage player
Snel en gemakkelijk
te gebruiken
Compleet beheer van reserveringen van desktop tot display.
Personaliseer uw display
Bewerkbare sjablonen voor gepersonaliseerde branding, aangepast aan uw bedrijf of bezoekers.
Uw boodschap overbrengen
Displays kunnen worden gebruikt als digital signage om reclameboodschappen en noodwaarschuwingen te presenteren.
Weergave van beschikbaarheidsstatus
Panelen geven de beschikbaarheid weer met verlichting die rood toont wanneer ze in gebruik zijn, oranje wanneer gereserveerd en groen wanneer ze beschikbaar zijn.
Op geselecteerde sjablonen wordt de planning van de vergaderruimte op het scherm weergegeven, zodat men bij de ruimte toekomstige reserveringsschema's kunnen zien.
Verbeter de vergaderervaring
Reserveer zalen via Microsoft Exchange of Outlook 365-agenda voor geplande vergaderingen, of direct bij de ruimte op het touchpanel.

Alle soorten sectoren
Het systeem is geschikt voor alle soorten sectoren, bijvoorbeeld bedrijven, conferentie locaties, opleidingen en onderwijsinstanties.
Alle functies van CleverLive
Kies uit een reeks lay-outsjablonen en personaliseer de sjablonen met geanimeerde tekst, diavoorstellingen met afbeeldingen, video's, klokken, nieuwsfeeds en nog veel meer.
Hoe het werkt
Krachtige functies en Live Rooms eenvoud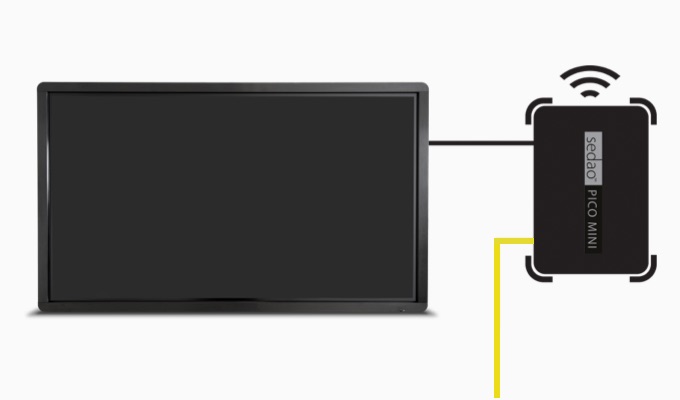 Connect
Verbind uw CleverLive CLOUD digital signage met uw Live Rooms display om direct alerts te versturen.
Lees verder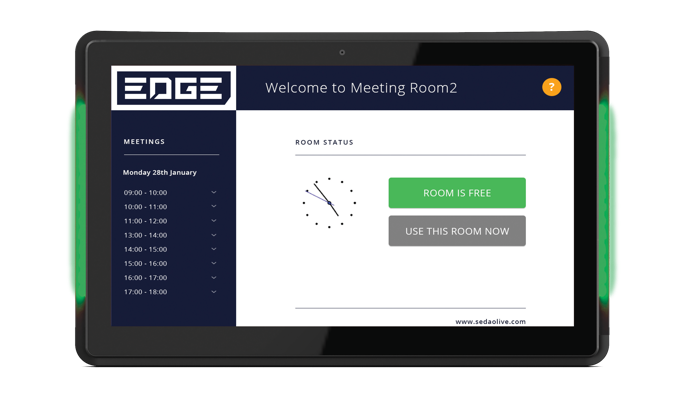 Reserveer de ruimte
Boek via Outlook 365, Microsoft Exchange, of bij de ruimte zelf. Ideaal voor planning vooraf of ad-hocvergaderingen onderweg.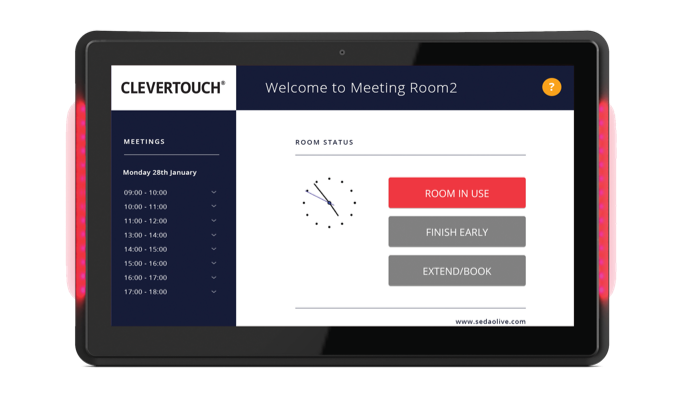 ---
Weergave (Beschikbaarheid)
Kleurgecodeerde beschikbaarheid - rood betekent geboekt en groen beschikbaar. Voeg waarde toe en toon digital signage boodschappen wanneer u ze niet gebruikt.
Lees verder
Specificaties
10-inch hoge resolutie (1280x800) - Actief oppervlak 216,96H x 135,6W
Ingebouwde WiFi en Ethernet-poort
Ingangsspanning 12V/2A - Power over Ethernet
CPU Octa-core cortex - A53 1.5GHz, RockChip, RK3368
USB, Micro USB, RJ45, seriële poort, DC - Audio/Video-interface HDMI
Captive Touch - 10 punten
2GB RAM, 8GB intern geheugen
Rood/Groene LED Verlichting
Wandmontagebeugel
Flash animaties
Klokken
Live TV
PDF
Websites
HTML 5
Geanimeerde tekst
Nieuws feeds
Touch compatible
PowerPoint
Foto & Slideshow
Video
Vul onderstaand formulier in om de brochure Live Rooms te downloaden