Making next-level technology available - Green.DNA
How one innovative designer developed the 'Workspace 7.0' and fulfilled its vision with technology from Clevertouch.
With four locations across The Netherlands and over 30 displays at each, this country-wide project gives members access to a state-of-the-art business and social enterprise.
WORK | MEET | CREATE
Managing Director, Sam Verwaijen, wanted to create a novel "office 7.0" concept for corporate accommodation. Green.DNA is a state-of-the-art office complex located in the Netherlands, where collaboration has great value. Sam's vision was to create a workplace that people love to go to - an environment where work, relaxation, and rest actually come together.
Indeed, it goes a lot further; think nutrition, vitality, branch advice, legal support, and e-gym. All were taken into account when designing the space, and Clevertouch technology was used throughout the design.
Over 30 displays were fitted at Green.DNA's four locations across the Netherlands. Four meeting rooms were created in addition to standard workspaces for every meeting type, from the serious-tactic-talking boardroom to a creative huddle space where you can write on the walls.
Access to all locations and facilities is included with Green.DNA membership.
"If you are in a meeting and would like to order some food for your table guests, you can do so via the Clevertouch displays."
The complex is split into several open-plan workspaces, separate office spaces, and meeting rooms. Individuals or companies can book a room or space as needed, and use the on-site digital signage to show their own brand identity. Both CM Pro Commercial Displays and UX Pro Interactive Displays are powered by CleverLive, allowing users to show dynamic digital signage.
Next level technology
All areas are equipped with next-level technology and everything works together, from digital signage to touchscreens to fully equipped workstations with curved screens and cloud access. The user can start working immediately. The prerequisite was that the user should even be able to get started intuitively, without having to be a technician. A huge feature in the design process was making the environment feel inspirational and welcoming. "It should be a gift to be in the office here every day," says Sam. "The entire location is designed with that in mind."

Working together
Collaborative areas were key to the Green.DNA concept and the Clevertouch solutions are an important part of this. Technology has to work in such a way that it becomes part of your daily use. Clevertouch makes it easy for users to connect their personal devices to the large format displays, with 4K streaming and Clevershare or AirServer included on all screens. For group work, UX Pro displays include an in-built whiteboard and apps designed for collaboration. Organisations can also add their own apps and software.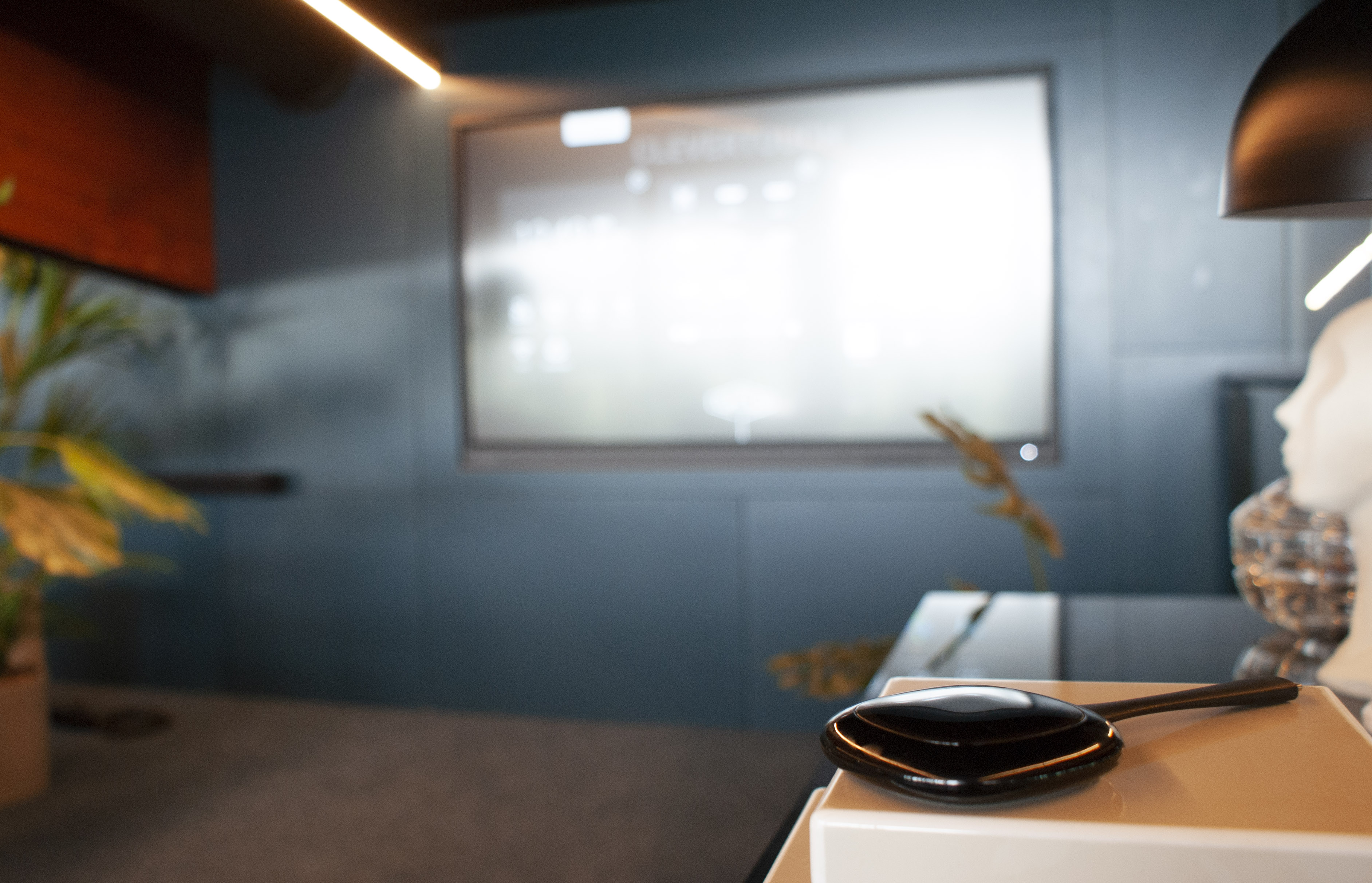 In all rooms and workspaces at the boutique offices, Clevertouch interactive displays (UX Pro) increase accessibility and make meetings smoother with less interruptions. "Even if you are in a meeting and would like to order some food for your table guests, you can do so via the Clevertouch displays."

The CleverLive digital signage platform is cloud-based and controls the signage on the commercial, interactive and room booking panels, without subscription fees. Communication with customers and visitors is high on the agenda. For example, there are displays located at the entrance, enabling the companies to present their brand identity so that it really feels like a personal office. The visual display and set-up is done via CleverLive and meets the high standards required by Green.DNA. All communication carriers are linked together and ensure that a message is conveyed in various places, at various times.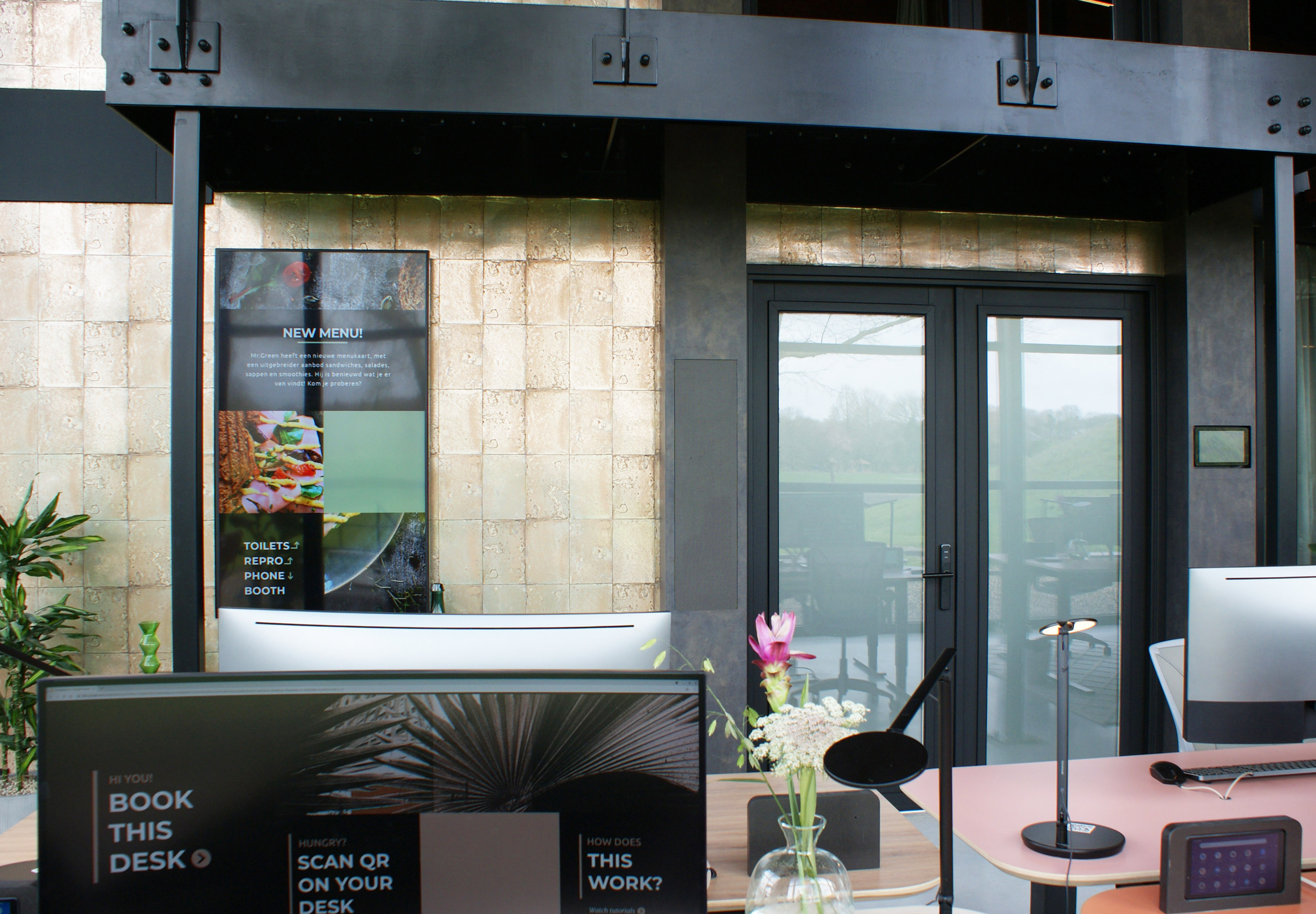 Adoption
Green.DNA envision people actively using the solutions. The technology is so intuitive, that it's simple for users to step up to a brainstorming session with a colleague, or present from the screen. "This is really nice to see happening in front of you," Sam continues.
Want to learn more? Take a look at their website.
If you're interested in a similar solution, get in touch with our Enterprise Director, Mark Tildesley.