IMPACT Max
Maximum security. Maximum potential. Maximum results.
IMPACT Max
Maximum security. Maximum potential. Maximum results.
Make ordinary lessons extraordinary
65"4K | 75"4K | 86"4K
Android 11 - Cyber secure
Room filling sound system
USB-C with hardware optimisation
Screen sharing and lesson planning apps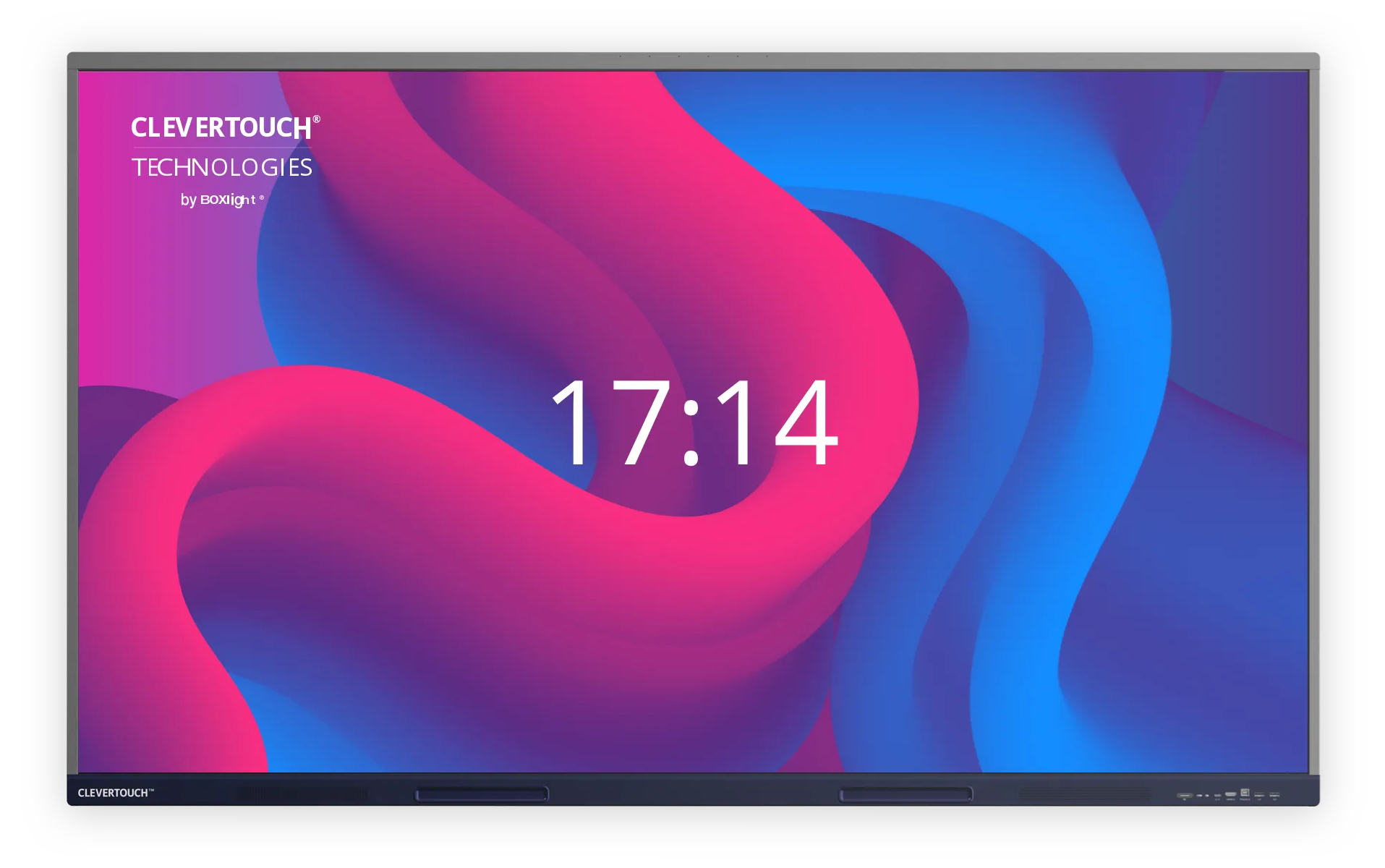 Google Classroom compatible
Multi user profiles and launch screens
Compatible with cloud accounts
Android 11 - Cyber secure
Google Classroom compatible
Room filling sound system
Multi user profiles and launch screens
USB-C with hardware optimisation
Compatible with cloud accounts
Screen sharing and lesson planning apps
Comprehensive Warranty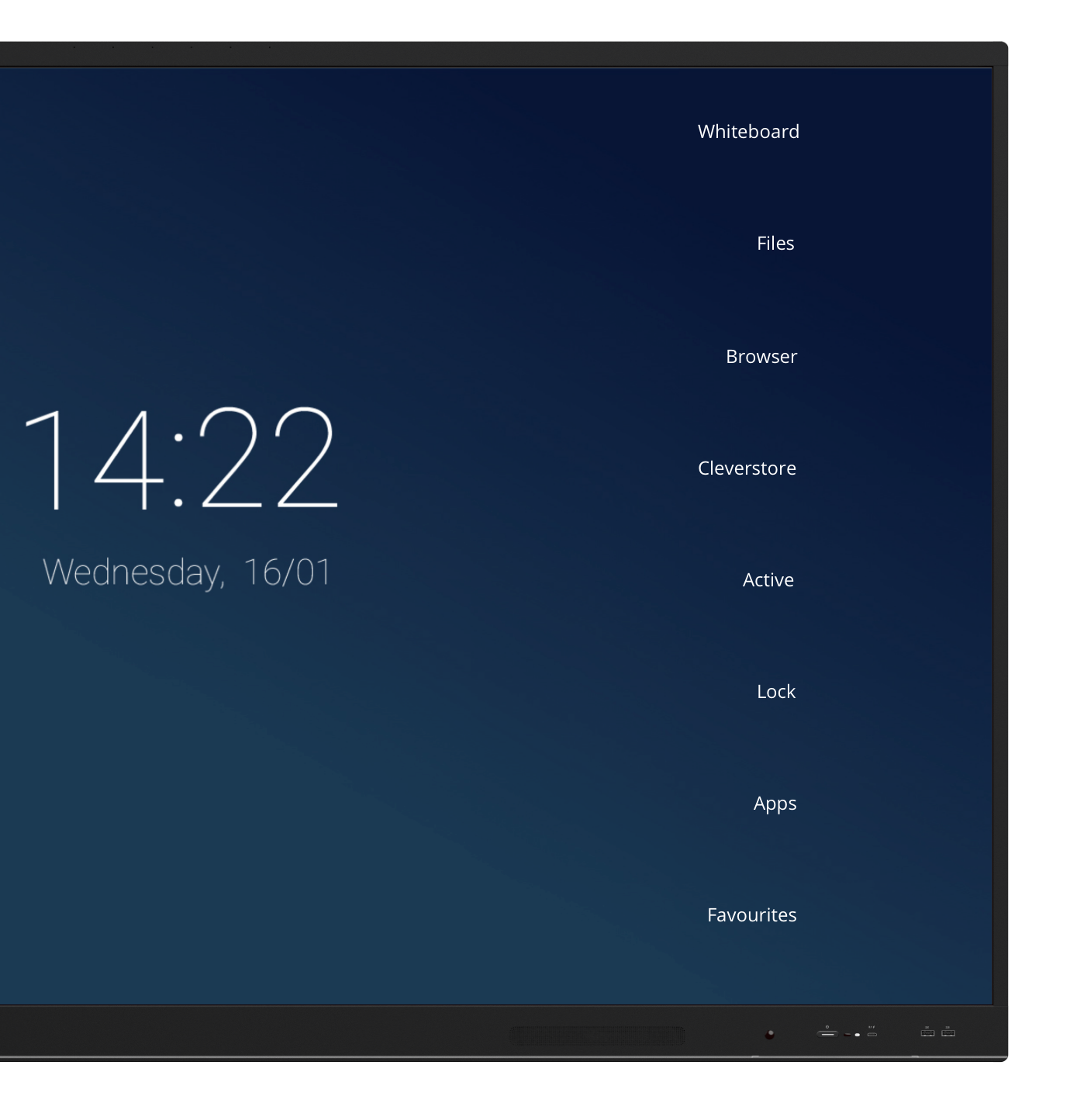 Quick Launch Menu for instant teaching tools
Your most commonly used apps are available with one touch and are easily accessible via the Quick Launch Menu. Annotation tools can be accessed at any time, keeping lesson flow smooth and simple, ensuring increased student engagement.
Make notes, diagrams, or images, add and scroll through multiple pages, insert an image or change the background colour.

Double click on files to open them, as well as easily copy, cut and paste, so it's just like using a PC. Personal Cloud Storage integration.

Explore the internet without needing a computer, using the IMPACT™, Chrome and Chromium browsers.

Cleverstore contains hundreds of apps in all subjects and a range of languages, including literacy, STEAM and languages. Each app is tested by our team, to make sure no adverts, in app purchases, or inappropriate content gets through. We've partnered with the most popular educational app developers to give you apps that you can really make use of in the classroom.

Easily go back to recently used apps using the Active button with split screen mode.

Protect your Clevertouch with a password by using Lock.

All of the integrated apps and the apps you've downloaded from the Cleverstore can be found here.

All your favourite apps in one place, including Settings.

The Clevershare App is free to download and compatible with Android, Windows, iOS and Chrome devices. Up to 50 devices can connect with the Clevertouch screen and share content – images, video, and audio. The presenter has full control over what is shared, and can show up to 4 device screens simultaneously, increasing student collaboration and participation within every lesson. Now includes touch-back.

Floating annotation tool – Annotation, voting, spotlight, handwriting, timer, stopwatch, snipping and zoom tools.
Powered by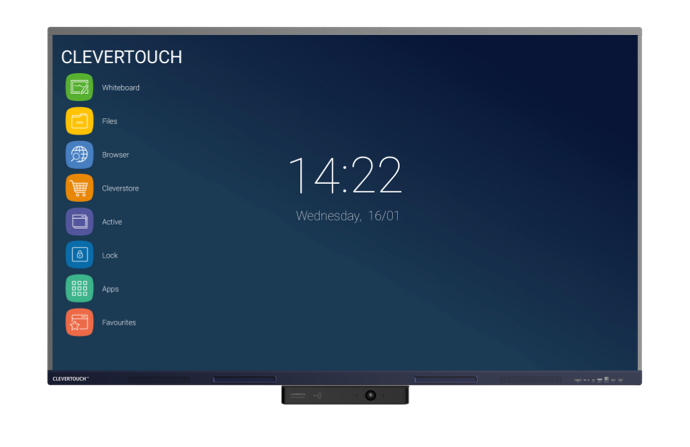 Sustainable and environmentally friendly
We've designed IMPACT Max to be super lightweight and slimmed down our packaging, giving us the ability to reduce our carbon emissions from fuel in transit. Our packaging is 100% recyclable and we're committed to finding the best ways to be sustainable in our manufacturing and transport.
Add an Intelligent Sensor for power saving light and motion sensors, as well as sensors that measure temperature, humidity and air quality to ensure that you are working in the optimal environment.
LYNX Whiteboard
Dynamic lesson content
Most teachers have libraries of resources that they created or shared, be they SMART Notebook, Promethean ActiveInspire or PowerPoint files. With LYNX Whiteboard, you can use any of your legacy resources without losing any interactivity.
As it's cloud-based, teachers can log into their LYNX Whiteboard account to prepare content from anywhere. LYNX Whiteboard has been designed for use on touchscreens, and includes media search, browser and videos, all without having to leave your window. A huge selection of pen tools and interactive content give unlimited options to create dynamic lessons, and there are also dozens of STEM activities available.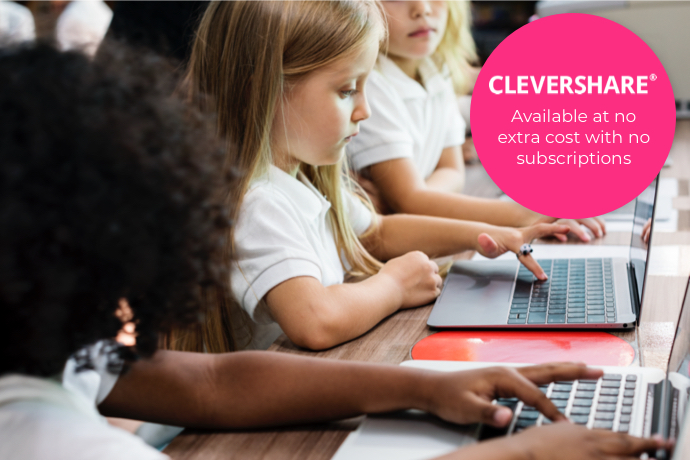 Clevershare
Endless collaboration
Celebrate students' work by encouraging them to share content with your front-of-class IMPACT Max display. The Clevershare app is free to download and can be used on any device. Students can either share their digital work, or use a phone or tablet as a document camera to share physical work. With built-in teacher controls, the teacher can choose up to 9 devices to share at any one time.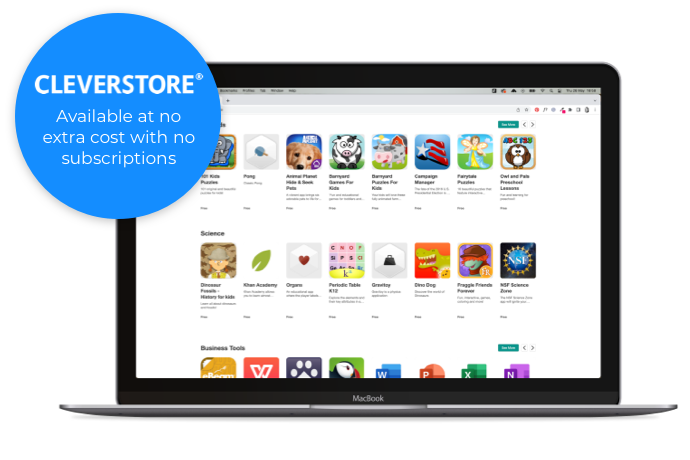 Cleverstore
Educational apps for all
Our app store had hundreds of apps designed for the classroom, and each one has been carefully selected and moderated by our team of edtech experts. Multiple language and subject areas are available, many with downloadable PDFs to use alongside the apps during lessons.
Completely free, with no adverts or inappropriate content, the Cleverstore provides engaging content to elevate learning.
Unlimited users
Every Clevertouch device comes with CleverLive. Create unlimited users and connect your entire school's screens to a central account. Teachers can go into any classroom and login to access their files, apps and lessons.
Create bespoke launcher screens, so that when you login you see relevant information for your school, classroom or department.
A winning warranty that's unbeatable and incomparable
We understand that your Clevertouch is critical to your classroom. That's why they're designed for performance and built to last. But occasionally, what can't go wrong does develop a fault, so you need to be sure your warranty covers it and corrects it – FAST. With a winning warranty from Clevertouch, fully inclusive means fully inclusive, and we guarantee no unexpected charges and no inconvenient hassles.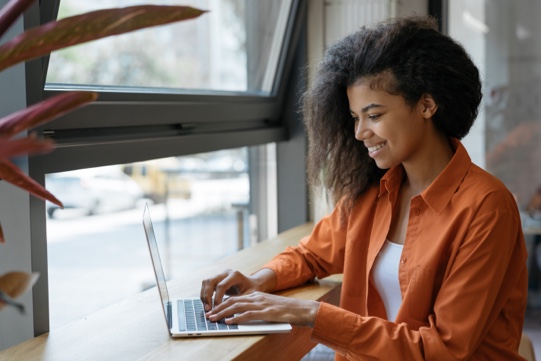 Work remotely
Remote Management
View, control, update and troubleshoot remotely. Remote Management gives your IT department the ability to work on your Clevertouch screen without needing to visit your classroom.
Find your perfect interactive display
Q1. Do you require touch?
Yes
No
Prefer the personal touch?
To download the IMPACT Max brochure, complete the form below