Het digitale ecosysteem stelt u in staat om in de hele organisatie te communiceren en samen te werken met behulp van het Clevertouch

Live webgestuurde CMS-platform. Dit is de verbindende laag van het productassortiment van Clevertouch Technologies.
Het productassortiment van Clevertouch Technologies omvat: digital signage, ruimtereservering, grootformaat commerciële displays, bewegwijzerschermen en interactieve touchdisplays voor zowel zakelijke als educatieve omgevingen. Voor daar waar wordt samengewerkt.
DIGITAL ECOSYSTEM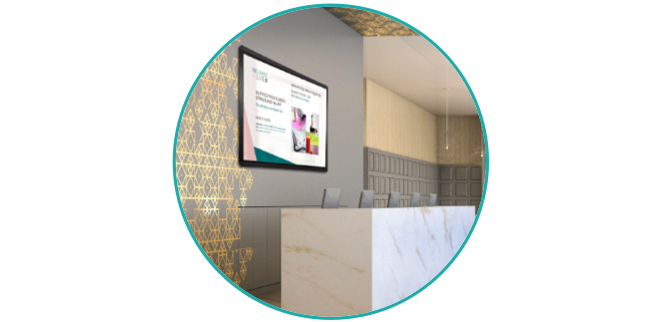 Receptie Digital Signage
Publiceer ontvangstberichten bij entree, toon uw identiteit en communiceer met uw publiek op het moment dat ze de deur binnenlopen. De veelzijdige digital signage-cloudplatform stelt u in staat om welkomstberichten, bedrijfsinformatie, lokaal nieuws en nog veel meer weer te geven op onze grootformaat beeldschermen.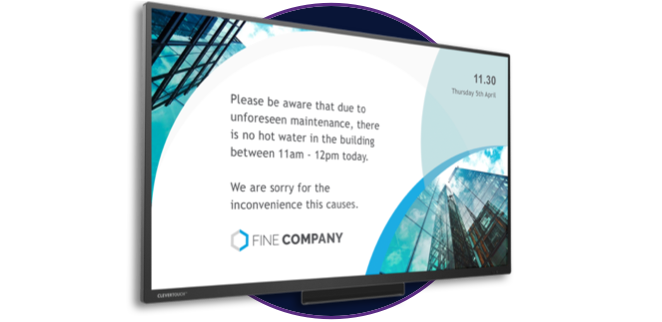 Interne communicatie
Communiceer met medewerkers, bezoekers en studenten in uw huisstijl en door het hele gebouw, allemaal beheerd vanuit het veelzijdige digital signage-cloudplatform. Houd iedereen op de hoogte van veiligheidsprocedures, aanbiedingen, speciale evenementen, KPI's, noodberichten en meer.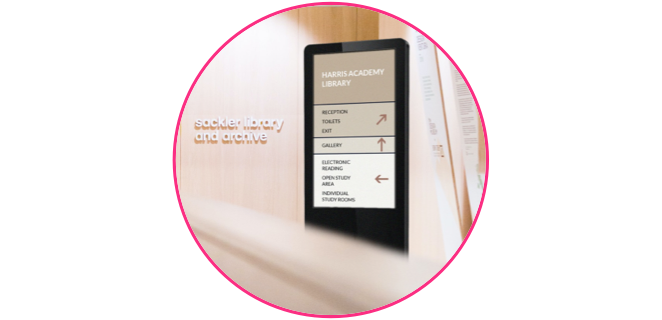 Bewegwijzering
Communiceer routes en kaarten met behulp van unieke platformfuncties op zowel non -als touchdisplays . Voeg QR-codes en andere multimedia uitingen toe om in contact te treden. Volg op met call-to-actions of andere waardevolle informatie voor de ontvanger.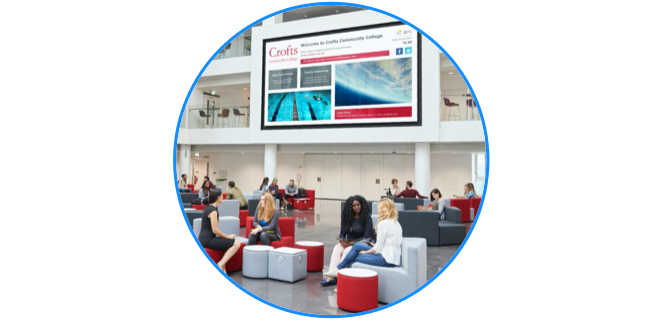 Commerciële displays
Transformeer open ruimtes en vergaderruimtes met innovatieve schermtechnologie. Onze CM-serie is een professioneel groot formaat beeldscherm met ingebouwde digitale bewegwijzering en integratie van vergaderruimtesystemen.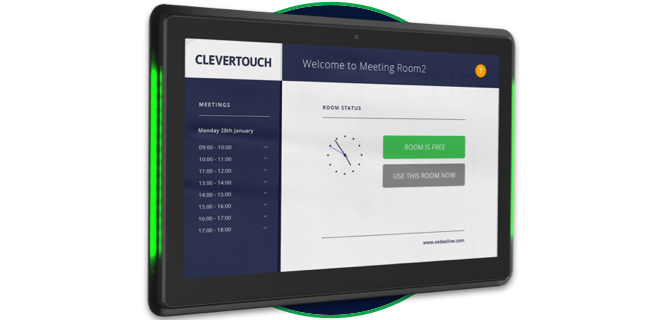 Ruimtereservering
Onze Live Rooms reservering oplossing wordt beheerd via het Digital signage cloudplatform en kan worden geïntegreerd met O365 en ME, zodat u bestaande agenda- / e-mailadressen kunt gebruiken. Live Rooms voegt waarde toe bij het boeken van een ruimte in uw organisatie. Reserveer vanaf uw desktop-pc-kalender of live in het systeem, zie in één oogopslag LED-lampjes die de beschikbaarheid van de ruimte aangeven, gebruik het scherm ook om interne communicatie weer te geven en stuur instant messages voor brandoefeningen en zo veel meer.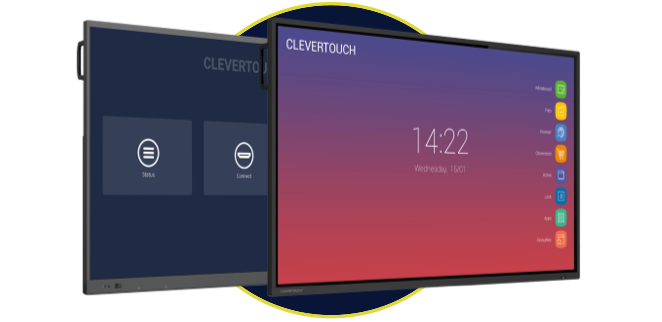 Interactive displays
Bevorder samenwerken, deel dynamische ideeën, presenteer met interactie. IMPACT en UX Pro zijn bekroonde touchscreen-oplossingen, geleverd met toonaangevende apps.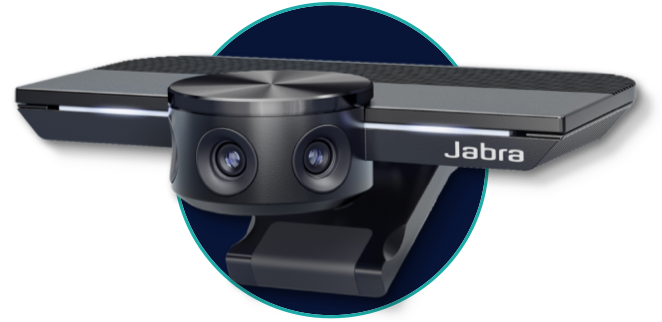 Unified Communications
Transformeer de manier waarop u communiceert met onze partners Zoom, Launcher, Intel, Logitech en Jabra. Nu heeft u slechts één systeem nodig in uw vergaderruimte.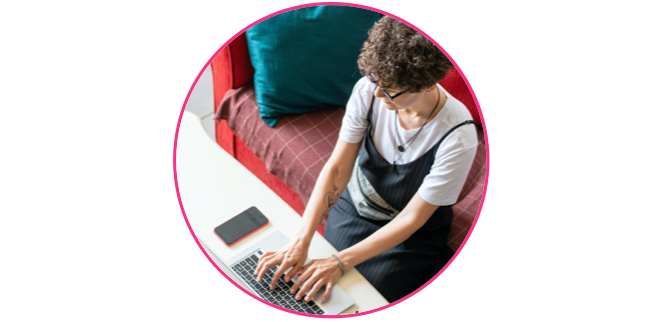 Remote management
Uw IT-afdeling kan problemen oplossen, updates draaien en op afstand afsluiten en zoveel meer, waardoor ze tijd besparen en activiteiten bij de gebruiker wegnemen.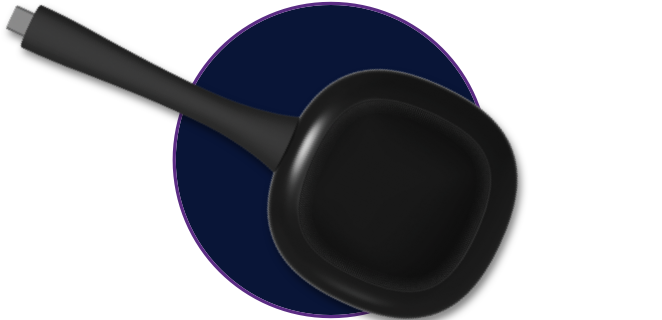 Screen mirroring
Gebruik Clevershare om inhoud van uw apparaat te delen met uw interactieve display - elk netwerk, elk apparaat, elk platform. Met touchback voor tweerichtingsverkeer.
Fysieke berichtknoppen
Creëer een ervaring door interactie met het publiek te optimaliseren. Gebruik fysieke knoppen die zijn ontworpen om een trigger te activeren en de presentatie op het scherm te veranderen. Deze triggers zijn ideaal voor bedrijfsinstructievideo's, menuborden, productlijsten in de detailhandel en toeristeninformatieborden. Allemaal beheerd via ons narrowcasting cloudplatform.
Virtuele berichtknoppen
Instant messages als noodwaarschuwingen, promotionele aankondigingen of weersinformatie kunnen worden gepubliceerd en beheerd via het narrowcasting cloudplatform. Via een virtuele knop wordt de de actie in werking gezet. Geen app of software nodig, gewoon een webbrowser.
QR Codes
Verbeter uw publiekservaring door interactieve QR-codes in uw presentaties. Door de QR-code te scannen, kan men de inhoud op het scherm wijzigen. Bepaalt vanuit uw gedefinieerde triggers die worden beheerd via ons narrowcasting cloudplatform. Communiceer vervolgens een call-to-action of meer informatie op het apparaat dat ze gebruiken. De mogelijkheden zijn legio.