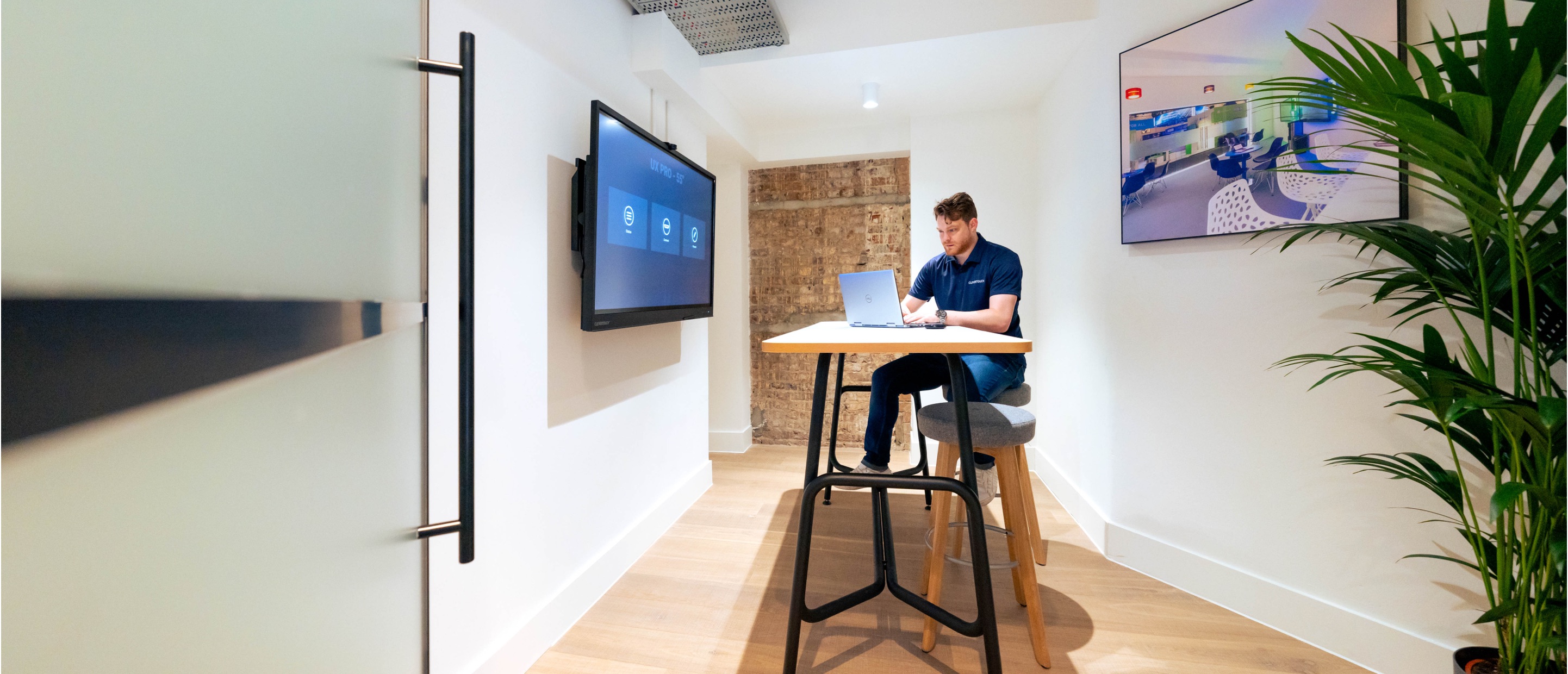 Teamvergaderingen stroomlijnen met Clevertouch-technologieën
ACE Energy Solutions, gevestigd in Katy, TX (VS), is een olie-inzamel- en marketingbedrijf dat vond dat het tijd was om hun connectiviteitstechnologie te upgraden in een poging om de productiviteit te verhogen.
Ze waren specifiek op zoek naar een AV-oplossing die dat kon
vereenvoudig teamnetwerken, stroomlijn vergaderingen en faciliteer actieve samenwerking.


Belangrijkste oplossingen
Na onderzoek van de kantoren van ACE Energy, creëerde Data Projections (DPI) - een Clevertouch®-partner - een aanpasbare oplossing met een paar Clevertouch UX Pro interactieve flatpanel displays. De flatpanels - een 75-inch Pro en een 86-inch Pro - werden in twee vergaderruimten geïnstalleerd, zodat meerdere teams tegelijk gebruik konden maken van de panelen.

De ultramoderne UX Pro zorgt voor soepele en vertragingsvrije whiteboard-annotaties, wat een productieve en efficiënte teamvergaderingservaring ondersteunt. Bovendien kan de Clevershare-app het Clevertouch-scherm met meerdere apparaten verbinden en inhoud delen. Presentatoren van vergaderingen kunnen bepalen wat er wordt gedeeld, inclusief maximaal vier apparaatschermen voor betere teamsamenwerking.


Voordelen
De algehele respons op de Clevertouch UX Pro-panelen is buitengewoon positief. Vóór de Clevertouch Pro-serie organiseerde ACE Energy hun vergaderingen met traditionele whiteboards en een projector. Door te updaten met interactieve flatpanel-displays zijn de verschillen onmiddellijk merkbaar, aldus John Cannon, Manager of Technology Services van ACE Energy.

"Een van de belangrijkste redenen waarom we de Clevertouch geweldig vinden, is het digitale whiteboard. Het gebruik van een digitaal whiteboard heeft zoveel voordelen ten opzichte van een typisch whiteboard. Geen pennen, geen pennen die verloren gaan, geen stof en dan zijn er meerdere pagina's, meerdere pennen, een oneindig canvas, en je kunt (informatie) direct naar iedereen in de kamer e-mailen ", aldus Cannon.

Het ultramoderne ontwerp en de gebruiksvriendelijke eigenschappen van de Clevertouch UX Pro was te zien tijdens een operationele bijeenkomst, waarbij meerdere kantoren en afdelingen betrokken waren. Presentatoren van de vergadering werd gevraagd hun presentatiemateriaal te e-mailen naar
de Clevertouch in een poging om de ontmoeting te bespoedigen, aldus Cannon.

"Hun agenda was krap. Ze konden alle presentaties tijdig afronden doordat ze niet verschillende laptops, flashdrives hoefden aan te sluiten of in te loggen als verschillende gebruikers. Ze waren verbaasd over hoe vlot het ging ", zegt Cannon.

Neem voor meer informatie contact op met Daniel Morris, Technology Lead van Texas, VS.
De resultaten
ACE Energy Solutions heeft ook gereageerd op de veelzijdigheid en bruikbaarheid van het Clevertouch UX Pro-display, aangezien alle teams het interactieve flatpanel-display gebruiken voor presentaties. Binnen een maand na de implementatie van de Clevertouch-displays was het personeel gewend aan de technologie, waardoor vergaderingen en samenwerking efficiënter en productiever werden.
"Hoe een marketingbedrijf voor ruwe olie de productiviteit en efficiëntie van het team verhoogde met de Clevertouch Pro Series"