Make sure your
announcements
and alerts are seen
CleverMessage™ ​​​​for Business
Send your company's messages to every Clevertouch screen in an instant – alerts, photos, videos, news, announcements, and more are all available with dozens of templates to choose from.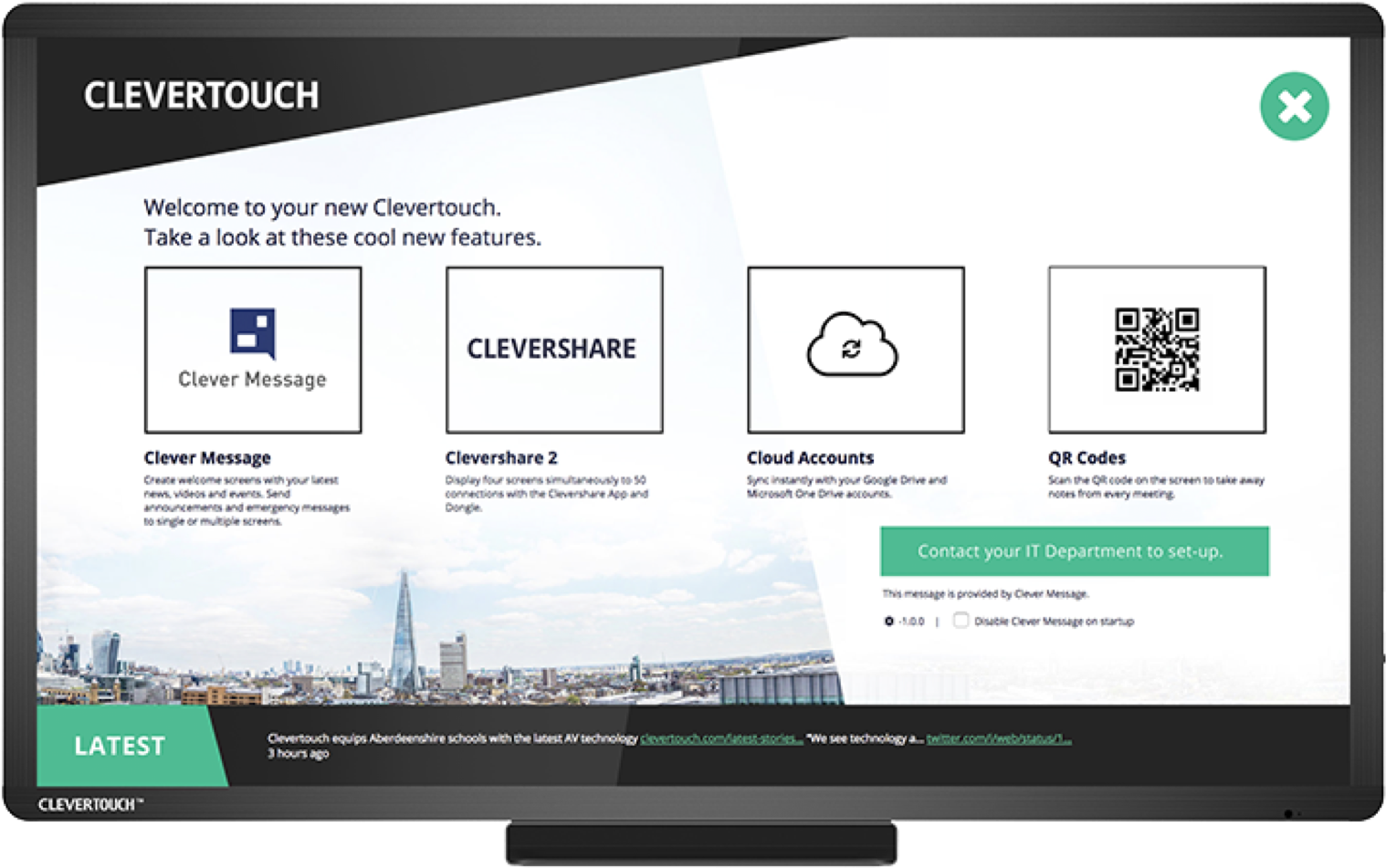 Instant Communication
Centrally controlled on-screen alerts & announcements
Now you can show more than just date and time on your touchscreen when it's not in use.
Clevermessage is the world's first 24/7 dynamic messaging and digital signage system for our Professional Displays range.
With this software, your Clevertouch panel will become a central part of your organisation. Delivering key messages and with the ability to power up and shut down at your selected times.
Features
Your interactive kiosk
Display marketing messages or add a welcome video – CleverMessage is touch compatible and user friendly, so easy for visitors to interact.
Features
Completely flexible system
Assign zones to different members of staff or departments to update, schedule timed messages and log-in to make changes from anywhere.
Features
Send instant alerts
Fire alarms, safety warnings, and important announcements at the click of a button. Send these messages to every Clevertouch screen.
Features
Customise to your brand
Upload your company logo and choose your corporate colours. CleverMessage will automatically add them to any template you choose.
Features
Personalised screen savers
Create branded screen savers on all your Clevertouch screens. Add social media or news feeds, videos, photos, slideshows, PDFs, and more.
Features
Group your screens
Create groups of screens, so you can send appropriate messages to the right departments or send a welcome message to visitors in reception.

Your Clevertouch panel will become central to your organisation – delivering key messages, with the ability to power up and shut down at your selected times.
Maximise Your Clevertouch Screen
Designed in conjunction with CleverLive, CleverMessage maximises your Clevertouch screen by displaying important alerts, announcements, daily messages, promotional communications, and eye-catching digital media.

​​​​​​​Alerts can be sent across an entire digital estate of Clevertouch screens in real-time. CleverMessage can be accessed remotely to communicate onscreen notifications such as
evacuation notices, health and safety messages, general organisation announcements, disseminating information quickly and efficiently across the entire facility.
The screen override feature allows important alerts or announcements to be pushed in front of any active sessions. CleverMessage can configure your Clevertouch panels into groups of screens, a single unit, or the entire estate to ensure only relevant information is received in the correct location.